LEHMAN, Pa. --
When he was working out in the weight room at Lake-Lehman a year ago, Zack Zaleskas was perfectly content continuing his crusade to drop some pounds and get in better physical condition.
During one of those workouts, district superintendent Jim McGovern approached Zaleskas about the possibility of joining the football team.
Zaleskas, who said he was 300 pounds when he started to get in shape, lost 70 pounds when he figured it would be a good idea to suit up for the Black Knights.
However, there was a catch. The senior defensive/offensive lineman already had a responsibility on game nights that had nothing to do with chasing running backs or blocking defensive tackles.
Zaleskas is a member of the Lake-Lehman marching band and competitive marching band where he plays the vibraphone - an instrument with tuned metal bars that is similar to the xylophone.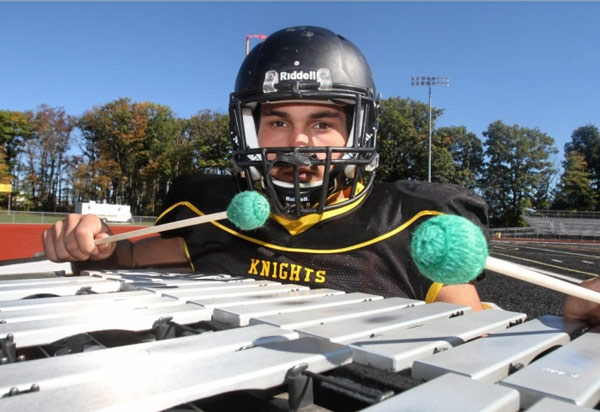 "I just started football this year," Zaleskas said. "I have been doing band since fifth grade and helping since I was in first grade."
Zaleskas credits McGovern for getting him to go out for the football team. When he started working out he could barely bench press 70 pounds. Now, he's up to 270 pounds on the bench press.
"Mr. McGovern told me I could do both," Zaleskas said. "He's been a real inspiration to me."
Being involved in football and band, as well as other clubs, creates a hectic schedule for Zaleskas. He reports to school at 7 a.m. and football practice is usually done by 6 p.m.
"We have band practice from 5:30 to 9 every other day. It's a 14-hour day for me every other day. I'm also on the swimming and diving team. On the days I don't have band practice I go from football to swimming and diving."
A chaotic schedule all leads up to Friday night when it's showtime.
Zaleskas is easily identified from the bleachers. He's the only band member dressed in a football uniform.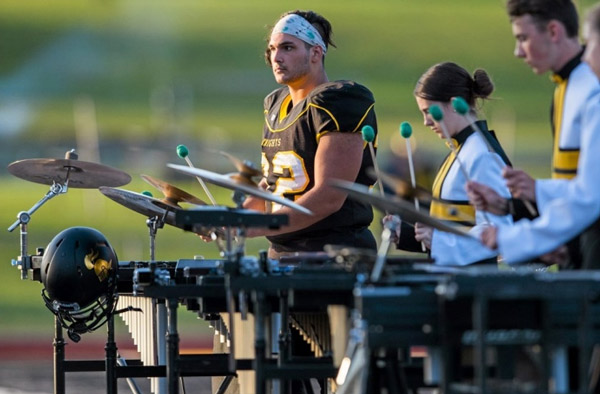 "It's incredibly rewarding to do the show before the game," Zaleskas said. "Just to see all the people cheer for us. When I go out for a halftime show, I'm kind of tired, but I get that second wind and I'm able to play the show. I love music and the band. Football is incredibly fun. It's rewarding to do both."
While some conflicts are easily resolved, others aren't. There are times when his two worlds collide.
That was going to be the case Saturday when Lake-Lehman played Holy Redeemer at Wilkes-Barre Memorial Stadium. Later in the day, the band was scheduled to be in a competition at Loyalsock High School.
After analyzing the situation, Zaleskas doesn't believe it's a problem.
"I'm just going to go to the football game and play my hardest," Zaleskas said. "Then, I'll shoot over to Loyalsock for the competition. I had to talk to my coaches because of how the times worked out. The game starts at 1, and if we don't perform until 7, it won't be hard to get there on time."
Zaleskas is in the unique position that no matter what he does on the day Lake-Lehman is playing football, he has to be perfect - whether it's blocking or performing.
"Being in the band is hard stuff. Imagine trying to remember seven minutes of being perfect," Zaleskas said. "I don't have the added difficulty of marching. Playing the vibraphone takes technique and remembering. Everything you do wrong you are not just hurting yourself but the entirety of the group."