GARNER, North Carolina (WTVD) --
A Wake County woman who was homeless and in need of medical care has gotten a helping hand from a young Pennsylvania woman who runs a charity called Jamie's Dream Team.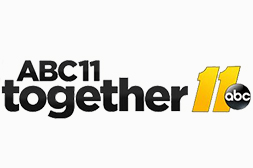 The 60-year old woman, who asked that she only be identified by her first name, had recently been living in an extended-stay hotel in Garner but was running out of money.
Jamie Holmes, who founded the non-profit, was in town to help fund a wedding for a young couple with disabilities when she heard about "Anna."
Want more ABC11 Together stories? Get the ABC11 News App
Calling Anna "an angel," Holmes said she is now raising money on her organization's website to pay for Anna's room for as long as she needs it.
Anna, who carried around a signed "Do Not Resuscitate" order with her and her oxygen tank, said Jamie and her organization have given her a new lease on life. They've also given her all the supplies she needs to set up housekeeping in her room.
If you want to help in the effort, go to
jamiesdreamteam.org
and click on the "donate" button.
Holmes says right now all the money being donated is going directly to "Anna."
Report a Typo