RALEIGH, North Carolina (WTVD) --
Two residential buildings remain off limits because of the damage sustained by the big blaze in downtown Raleigh.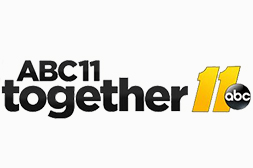 While no one was living in the downtown Raleigh building that burned, the 203-unit Link Apartments and 37-unit Residences at Quorum Center had several units seriously damaged by the radiant heat, plus smoke and water.
"I work 60 hours a week and you're playing phone tag with insurance adjusters and you're playing email tag with property management," resident Dan Alton told ABC11. "It's nobody's fault; everyone is flooded with questions and everybody wants answers. It's a tough time."
Stay on top of breaking news stories with the ABC11 News App
Alton said his managers predict the Link won't be ready until at least March 31. While he waits, he continues to bounce between hotels and staying with friends, but it's not the same as home.
"Use your blender, make a smoothie, go crash on your spot on your couch and watch Netflix," Alton said. "You're in a hotel, you can do some of those things, but it's not the same."
The American Red Cross continues to offer assistance to families who were temporarily displaced from neighboring apartment complexes.
Sabrina Amon, the Disaster Program Manager for the American Red Cross Triangle Region, confirmed her teams are directly helping 110 victims, and have served more than 530 meals.
"They're undergoing a lot of unexpected change, which can be very stressful," Amon told ABC11. "Food, clothing, shelter, water. We're also looking at things like medications - people who lost their medications in the fire and people need those things replaced."
Displaced residents in need of assistance can call the Red Cross Triangle Chapter at (919) 231-1602.
The best way people can help residents affected by disasters like this structure fire is by making a financial donation to the Red Cross. Financial donations are the quickest and best way to get help to people who need it most. To donate, please visit
redcross.org
, call (800) RED-CROSS or text the word REDCROSS to 90999 to make a $10 donation.
Report a Typo