ROLESVILLE, North Carolina (WTVD) --
The Rolesville ladies soccer team was warming up for a big game Wednesday while Benjamin Howard warmed up to ask his class buddy to the big dance.
"I hope I'm not being to forward, but can I score a date to prom," 18 year-old Benjamin read the sign he made to ask his date to the prom - a bouquet of flowers also in his hands.
It's his first time asking anyone to prom and his mother and teacher couldn't be more excited.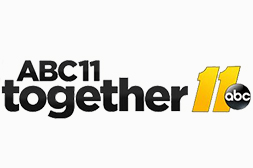 "Benjamin has autism. He is a student with a large heart, very kind," his teacher Sarah Gamsey said.
"Everything he does is so emotional because when he was younger, he may or may not walk or he may or may not be of a certain way, so I celebrate everything he does," his mother, Melanie Howard said, who is also a special education teacher in Wake County, for Heritage High School.
His mother and teacher teamed up to help Benny pull off the promposal for buddy, Shae Evans - a soccer field surprise right before Shea's next home game.
Benjamin waiting for her in the middle of the soccer field, sign and flowers in hand, hidden behind her team mates, as Evans's sister walked her on the field after giving her a game-time pep-talk distraction.
"Ask her," her teammates nudged him, as they stepped to the side to reveal Benny standing there.
"Will you go to prom with me," he asked. "Yes I will," she said as the whole team erupted in a roar of applause and cheers.
"I had no idea really, I was so shocked," Evans said. "I'm so excited; I got to get my dress."
Report a Typo