DURHAM (WTVD) --
The Durham Rescue Mission held its annual Easter celebration Friday with food and Easter baskets for hundreds of children.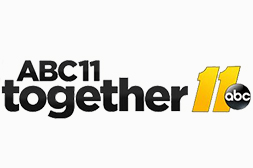 CLICK HERE FOR MORE ABOUT THE MISSION
To pull off a party of its size takes a lot of planning. Volunteers served up 800 pounds of barbecue, thousands of hotdogs, potato salad, and hundreds of deserts.
READ MORE: Cooking for a Cause: Rescue Mission preps for Easter feast
The kids were more excited for the Easter baskets filled with treats than the delicious lunch provided!
"I want to get Easter eggs!" said Gavin Hester.
"I just want to see what's inside the Easter eggs," Jaden Hester agreed.
Each year the mission makes sure every child leaves with an Easter basket. Donations were slow this year. A week and a half ago, they only had 180 baskets. But this Holy Week has opened the floodgates. Donations poured in. They've gone from 180 baskets to nearly 1,700.
But on this Good Friday, the focus is not on the baskets but on the people - people in need of a hand up.
"It breaks my heart to see there's a great need, but it warms my heart so see all of the volunteers coming together to help meet that need," said Durham Rescue Mission Director Rev. Ernie Mills.
Mills said nearly 400 volunteers donated their time to Friday's festivities, which included handing out close to 10,000 articles of clothing and groceries to families in need.
Click here to donate to the Durham Rescue Mission
, which makes celebrations like this a possibility.
Report a Typo