FRANKLINTON, North Carolina (WTVD) --
A Raleigh firefighter and his wife are scared to go home after an intruder broke in and shot their dog dead.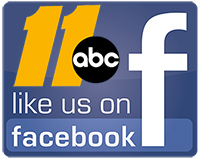 It happened in broad daylight Monday in Franklin County. No one was home at the time. Now, shattered glass still sits on the floor, bullet holes pepper the wall, and clothes are dotted with blood.
Stay on top of breaking news stories with the ABC11 News App
"It was probably a combination between what you would expect to see from a tornado and earthquake, and add blood and bullet holes to the house," Raleigh Fire Lt. Jim Pearce described the scene.
He said the worst devastation came when a family member found their adopted dog, Hank, shot dead near their front door.
"He's my baby," Jim's wife, Jamie Pearce, said. "It doesn't matter that he has four legs instead of two. He was my baby."
"To us it's a murder of a family member," Jim said.
The Franklin County Sheriff's Office has arrested a suspect in the crime: 17-year-old Luis Hernandez-Cruz.
The Pearces said he took four firearms, ammunition, a jar of coins and an iPad.
"I hate that he had to lose his life over this," Jim said of his dog, "but you would also never be able to replace my mom there checking on him, or my wife, Jamie."
Now, Jim and Jamie are left to grieve the loss of the pup they fell in love with, at first sight, four years ago.
"He would've laid down his life for me to protect me from anything, and I couldn't protect him and it breaks my heart," Jamie said.
Report a Typo