FAYETTEVILLE, North Carolina (WTVD) --
Fayetteville city leaders are working to keep the plans for a new downtown baseball park on track.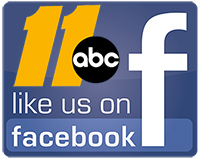 Leaders say it looks like construction will begin in August, but it will be a couple years before the first pitch.
But there's another hitch: The price tag appears to be coming in about $2 million higher than the $33 million budget.
City leaders say they are in the process of "refining" the design of the stadium, and will bring in the project on time -- and on budget.
"Our goal is $33 million," said Assistant City Manager Kristoff Bauer. "That's what it's going to be."
Stay on top of Cumberland County news with the ABC11 News App
Mayor Nat Robertson says fans should feel confident that there will be no delay in the stadium's scheduled 2019 opening day.
"That is a dream, absolutely a dream," Robertson said. "It's a dream that represents success, because there is no baseball stadium in the United States that's in a downtown that has failed."
The city has signed a 30-year deal with the Houston Astros to move their farm team, now known as the Buies Creek Astros, to Fayetteville in 2019.
Fayetteville is modeling its stadium after a similar one in Columbia, South Carolina. Initially, city officials told design engineers to give them the works. They did, but it cost $39 million. That was too much, so engineers scaled back some designs, for about $5 million less. Still too high, so it's back to the drawing board.
"We will make design changes and bring it in on budget," Bauer said.
Report a Typo