RALEIGH, North Carolina (WTVD) --
Hundreds of volunteers gathered Thursday to participate in Sort-O-Rama, an event sponsored by the Food Bank of Central and Eastern North Carolina.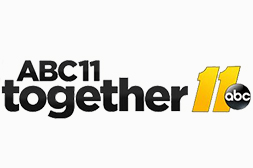 The Food Bank serves 34 counties throughout the state. In those counties, nearly 600,000 people don't have enough to eat, and children make up nearly a third of that number.
CLICK HERE TO DONATE TO THE FOOD BANK OF CENTRAL AND EASTERN NORTH CAROLINA
Twelve businesses brought volunteers to the Jim Graham Building at the Raleigh State Fairgrounds to sort meals and to help those in need.
"I think it shows how many people in the community care about the issue of hunger," Peter Werbicki, President of the Food Bank, said.
Rice was portioned near the back of the building to be distributed to local food pantries. The front of the room hosted volunteers sorting breakfasts and lunches for kids who won't have the meals they rely on during the school year while on summer break.
"Sometimes it gets a little heart wrenching, but little things like this make all the difference," explained Sacari Miller, a volunteer at the event.
The goal of the event is to pack 193,000 meals, which is a small goal compared to the 3.3 million meal goal the Food Bank hopes to have packed by the end of July.
Report a Typo