FAYETTEVILLE, North Carolina (WTVD) --
Eddie Gray has trekked more than 7,000 miles across America.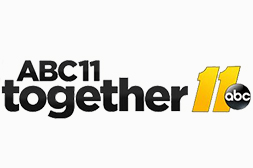 Just days ago he arrived in Wallace, North Carolina, where he spoke at an area church. After service, the U.S. Marines veteran came back to find that everything from his sleeping bag to his clothes were gone.
From Wallace, Gray hiked to Fayetteville to visit the Police Department. Once Chief Anthony Kelly heard about what happened, he contacted Academy Sports on Skibo Road who immediately jumped on board to help.
"Being a veteran myself, I heard the story and said 'Hey I'll take care of him' so we went out and purchased a military backpack," said Academy store director Kelsie Hagan.
Overwhelmed with the support, Gray is eager to continue his journey.
Want more ABC11 Together stories? Get the ABC11 News App
"This is outstanding. I prefer a military backpack because it's made for wear and tear and the weight I carry," Gray said. "Also have several different items so this will definitely help me on my journey."
Gray walks to spread awareness for healthcare for veterans. He chose Fayetteville because of its military population.
"I want to change that. I want to make it better. When I served I served for our country. Now I serve for them. Not my country -- for them," said Gray.
From Fayetteville, Gray plans to head to Raleigh to meet with Gov. Roy Cooper about his mission.
Report a Typo