FAYETTEVILLE, North Carolina (WTVD) --
April is sexual assault awareness month, and Fayetteville police investigators are profiling a number of cold cases they hope will jog someone's memory.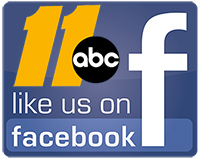 On Monday, the Fayetteville Police Department released a composite sketch in hopes of solving a 2011 rape case.
It happened shortly after 1 a.m. on October 25, 2011, during a robbery at a convenience store in the 6000 block of Yadkin Road.
Police say a man with a gun held up the store and took the female clerk into a back room and sexually assaulted her.
ALSO SEE: FAYETTEVILLE POLICE LOOK FOR 'PREDATOR' TIED TO 11 RAPE CASES
The man then left the store in a dark colored Chevy Corsica or Pontiac Grand Am, heading on Fillyaw Road towards Reilly Road.
The suspect is described as:
-Black male
-25 to 35 years old
-5'7" to 5'8" tall
-Medium to dark skin tone
-Wearing a black jacket with the word "Baller" written across the back with dark colored jeans and a dark colored cap.
"He had on distinctive clothing that we looked at that had the "Baller" on the back of the jacket," said Lt. Todd Joyce of the Fayetteville Police Department. "Hopefully someone recognizes that it could be in someone's closet. If they see that, call us now."
Anyone with information is asked to contact Detective J. Benazzi with the Fayetteville Police Department at (910) 257-3668 or Crimestoppers at (910) 483-TIPS (8477). You can also submit information to Crimestoppers by visiting
http://fay-nccrimestoppers.org
and completing the anonymous online tip sheet or by text-a-tip on your mobile device by sending a message to 274637 (in the text box type "4Tip" followed by your message).
Report a Typo