NORTH CAROLINA (WTVD) --
Winter weather can mean an increase in house fires, with a lot of those fires caused by heating sources.
A local firefighter and his family nearly lost their home after a wood stove sparked a fire.
You can donate to your local Red Cross here.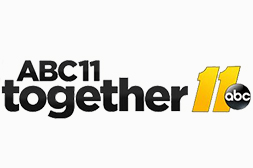 "He was walking from the kitchen back into the living room, he could start to see the first little hint of smoke - at this point there was not even enough smoke for the smoke detectors to go off by the time that we had noticed it," Tara Mebane said, describing the moment her husband Jeremy Mebane discovered the fire.
Some of their walls are missing, multiple rooms were destroyed and there's ash all over their home, but Tara said she didn't panic because Jeremy is a Durham firefighter.
"Once we realized it was not just in the chimney anymore - it had actually gotten into the wall, the siding - we knew we had to jump into action and called 911," Tara said.
"Grabbed the garden hose, threw the ladder up and tried to minimize the flames that were on the exterior of the house," Jeremy said, describing what he did after pulling out his home fire extinguisher and calling for help.
While the family is no longer living in their home and dealing with all of the damage, they said all of that is replaceable, and they're just happy no one was hurt, including their farm animals.
Their home is just one of at least 116 homes in the central North Carolina region devastated by a winter fire, according to Stan Morris, the executive director of the Red Cross's central North Carolina chapter.
"On average the Red Cross is responding to about five every day in eastern North Carolina," Morris said.
Jeremy said the fire is a little embarrassing, given his line of work, but it can happen to anyone.
"We felt that the chimney was clean; we inspected it this year, but accidents do happen. You can't be too careful," he said.
"And realize that this can happen to you," Tara said, warning others. "Start coming up with an emergency backup plan."
While the Mebane family said they'll get through this just fine, they are encouraging everyone to donate to the Red Cross to help others like them.
You can donate to your local Red Cross here.
The local Red Cross is urging folks to stay safe by keeping flammable materials at least 3 feet away from heaters, using flashlights instead of candles if you lose power and never brining a generator inside.
Report a Typo