CHARLOTTESVILLE, Virginia (WTVD) --
An Ohio man accused of plowing his car into counter-protesters at a white nationalist rally in Virginia made his first court appearance Monday and was denied bail.
James Alex Fields Jr., 20, didn't say much, only answering "yes sir" when the judge asked him questions. He was appointed a local attorney to defend him.
The latest:
*President Trump says "Racism is evil and those who cause violence in its name are criminals and thugs
* Federal law enforcement starts civil rights investigation
* ABC11's Andrea Blanford is live in Charlottesville
Fields is charged with second-degree murder and other counts after authorities say he drove into the crowd, fatally injuring one woman and hurting 19 others.
Authorities have identified 32-year-old Heather Heyer as the woman who died. Fields has been in custody since Saturday.
Some of his supporters came to Monday's hearing and confronted reporters outside the courthouse.
WATCH BELOW (CAUTION GRAPHIC LANGUAGE)
Also Monday, President Donald Trump said that "racism is evil" and condemned the KKK, neo-Nazis, and white supremacists as "criminals and thugs."
Trump has come under fire for his comments Saturday that "many sides" are to blame for the violence. In those remarks, he did not single out white supremacists or any other hate group, even as Republican lawmakers and others in his White House did condemn them by name.
A former teacher said Fields had a keen interest in military history, Hitler and Nazi, Germany.
Derek Weimer on Sunday said that he taught social studies to 20-year-old James Alex Fields Jr. during his junior and senior years in Kentucky, calling him an average student.
Weimer recalled that school officials had singled out Fields in 9th grade for his political beliefs and that he had made comments that alerted his social studies teacher at the time to "deeply-held, radical" convictions on race and Nazism.
Weimer said Fields was a big Trump supporter because of what he believed to be Trump's views on race. Trump's proposal to build a border wall was particularly appealing to Fields, Weimer said.
Fields was photographed hours before the ramming carrying the emblem of one of the hate groups that organized the "Take America Back" campaign.
In a photo taken by the New York Daily News, the 20-year-old Fields was shown standing with a half-dozen other men, all wearing the Vanguard America uniform of khakis and white polo shirts. The men held white shields with Vanguard America's black-and-white logo of two crossed axes. The Confederate statue of Robert E. Lee was in the background.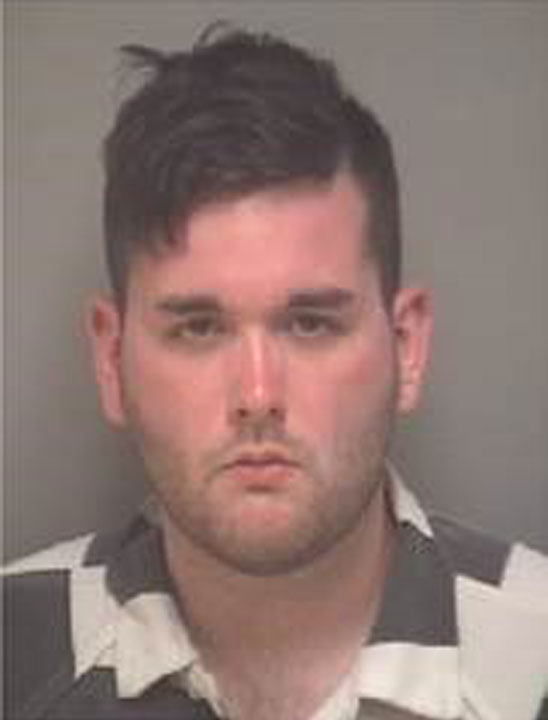 The Daily News said the photo was taken about 10:30 a.m. Saturday just hours before authorities say Fields crashed his car into the crowd at 1:42 p.m. The Anti-Defamation League says Vanguard America believes the U.S. is an exclusively white nation and uses propaganda to recruit young white men online and on college campuses.
Vanguard America denied on Sunday any association with the suspect.
In a Twitter post, the group said it had handed out the shields "to anyone in attendance who wanted them," and denied Fields was a member. "All our members are safe a (sic) accounted for, with no arrests or charges."
In blog posts after the violence, the Daily Stormer, a leading white nationalist website that promoted the Charlottesville event, pledged to hold more events "soon."
"We are going to start doing this nonstop," the post said. "We are going to go bigger than Charlottesville. We are going to go huge."
Saturday's chaos erupted as neo-Nazis, skinheads, Ku Klux Klan members and other white supremacist groups staged a rally to protest the city of Charlottesville's plans to remove the Lee statue. Peaceful counter-protesters arrived and marched downtown, carrying signs that read "black lives matter" and "love."
The two sides quickly clashed, with hundreds of people throwing punches, hurling water bottles and unleashing chemical sprays. Some came prepared for a fight, with body armor and helmets. Videos that ricocheted around the world on social media showed people beating each other with sticks and shields. Amid the violence, the Dodge Challenger tore through the crowd.
Attorney General Jeff Sessions announced late Saturday that federal authorities would pursue a civil rights investigation into the circumstances surrounding the crash. The violence and deaths in Charlottesville "strike at the heart of American law and justice," Sessions wrote. "When such actions arise from racial bigotry and hatred, they betray our core values and cannot be tolerated."
The Associated Press contributed to this report.