RALEIGH (WTVD) --
ABC11 weekend anchor Julie Wilson is 'Dancing Like the Stars' next weekend.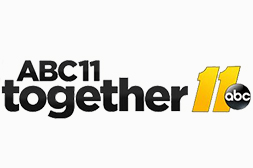 Similar to the popular ABC show 'Dancing With the Stars', community members from the Triangle area pair up with professional dancers to learn a routine and raise money for the National Inclusion Project which supports children with special needs.
CLICK HERE TO LEARN MORE ABOUT THE NATIONAL INCLUSION PROJECT
Julie has been practicing her moves for the past several weeks at the Arthur Murray Studios in Cary.
DLTS will take place April 22 at the State Fairgrounds as part of the Southern Women's Show.
All proceeds benefit the National Inclusion Project.
To vote for Julie and donate to the cause
CLICK HERE
The dancer with the most votes wins. Every $1 = 1 vote.
Report a Typo