DURHAM, North Carolina (WTVD) --
Now in its 11th year, the Empty Bowls fundraiser for Urban Ministries brings local chefs together in a friendly competition to see who can make Durham's best soup.
"It's a great cause. It's what we're called to do, to help others. I'm just happy that the Convention Center allows me to do this," said Chef James Archer.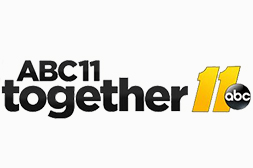 "We have about a thousand to 1,200 people. It has sold out every single year. People who remember the very early years when you could come up and get a ticket at the door, now it's much smarter to buy them ahead of time to make sure you don't miss out!," said Brian Gilmer with Urban Ministries of Durham.
Stay on top of breaking news stories with the ABC11 News App
Ticket holders can also choose from hundreds of handmade bowls created by local artists. That work's done inside Claymakers, and the Durham Arts Council's clay studio. From wet beginnings to the glazed end, they're packed and prepared for presentation.
"Durham Arts Council is community-based, and so an opportunity to link with Urban Ministries is wonderful," said Lee Ann Diemer Jones.
There's a people's choice soup plus a winner chosen after blind tasting by a panel of judges.
The cost of tickets depends on if you want soup or soup and a bowl too.
CLICK HERE FOR TICKET INFORMATION
Those who pay more get first dibs on the bowls.
"If you lay $60 for your ticket you can come in the first half hour and find that really special bowl in the regular bowl assortment. The amount that we make on a $100 ticket is enough to serve about 40 meals in our café to a hungry or a homeless person," said Gilmer.