FUQUAY-VARINA, North Carolina (WTVD) --
Operation: Coming Home celebrated the groundbreaking of a new home in Fuquay-Varina for veteran Sgt. Brandon Temple and his wife, Eloni Thursday.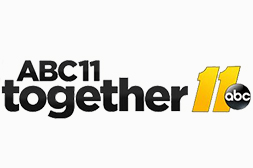 The 2,700 square foot, 4 bedroom, 3 bathroom home in the Sonoma Springs neighborhood is expected to be completed by May. Operation: Coming Home often customizes homes for wounded veteran's needs.
CLICK HERE TO LEARN MORE ABOUT OPERATION: COMING HOME
Sgt. Temple sustained lacerations to his head, face, and body and suffered from a traumatic brain injury when his vehicle hit an improvised explosive device in Afghanistan. The Marine served numerous deployments and received a Purple Heart.
Stay on top of breaking news stories with the ABC11 News App
"I've suffered some long term ailments that I will be dealing with for the rest of my life that you just can't get rid of," Sgt. Temple said.
Sgt. Temple and his wife say the home will allow them to finally lay down roots.
"I was always gone training, deployed," Sgt. Temple said. "This gives us the ability to finally settle down and start having kids and start a family here."
"Being a military family, you kind of have this level of uncertainty about where you're going to live and what the future is going to hold so now being out and having this home, we can really settle," Eloni Temple said.
The nonprofit Operation: Coming Home partnered with Royal Oaks Homes and other businesses and nonprofits to build this home.
The Temples say they're thankful to the community.
"It's completely surreal," Eloni Temple said. "We look forward to when we're established in the house and that we're a part of this community."
Operation: Coming Home builds homes for wounded, combat veterans who served in the Middle East. It's a project by the Home Builders Association of Raleigh-Wake County.
Report a Typo