VAN NEST, Bronx -- Sixteen people were injured in a seventh-alarm fire that burned through an apartment building in the Bronx Tuesday morning.
The fire started in a furniture store on the first floor of the Commonwealth Avenue building just after 5:30 a.m, just 5 days after another fire killed 12 Bronx residents.
READ MORE: Investigators believe child playing with stove caused deadly Bronx fire
Flames spread through the four-story building and through the roof.
Of the 16 people injured, only one had a serious but not life-threatening injury. The others were described as minor.
On the frigid morning, firefighters were battling not only the flames but the cold as well.
A heavy icing condition was reported on streets around the building.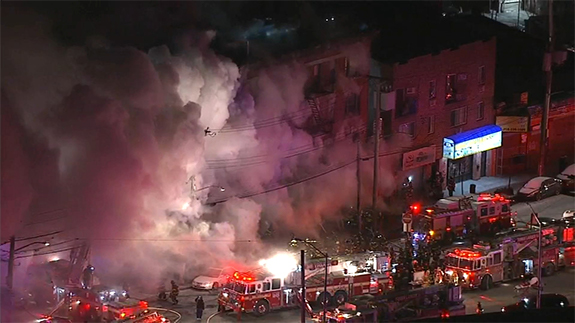 Firefighters broke windows to get people out of the building as the fire continued to burn.
One woman ran down the hall banging on doors to try and get her neighbors out.
Another resident escaped with her two children and dog. She was getting ready for work when she smelled smoke.
"I woke up my husband, my kids and said listen there's a fire in the building," she said. "By the time we opened the door in the hallway, there was black smoke."
East Tremont Avenue was closed between Rosedale Avenue and Saint Lawrence Avenue.
The cause of the fire was not immediately known.
Derick Waller had this report from the scene: