RALEIGH DURHAM INTERNATIONAL (WTVD) -- Wednesday was a rough day for travelers who were flying out for the holiday. There were dozens of flights delays on an already hectic travel day.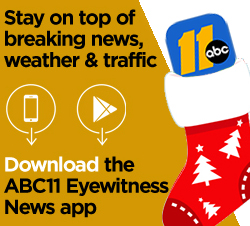 At Raleigh-Durham International Airport, dozens of flights were delayed to the Northeast because of bad weather. Folks had to wait longer than they wanted to get home to family and friends.
"I'm a little homesick. I'm missing my family," said traveler Orlando Simpson.
Wednesday was one of the busiest travel days of the year. About 30,000 people passed through RDU.
"The holidays are crazy to begin with and it almost makes it a positive thing, like 'It's exciting. It's the holidays'," said traveler Kathy Redmon.
There were long lines at TSA and ticket counters. People were scrambling to get to their gates and secure a seat on the plane.
Some people didn't give themselves enough time and ended up missing their flights.
"The machine is actually slower than normal and because I cut it so close, obviously four minutes makes a difference," said traveler Steven Jameson.
Others, knowing how crazy it would be, gave themselves plenty of time and arrived at the airport hours before takeoff.
"I'll sit here and wait and enjoy the festivities," Simpson said.
Airport officials expected the craziness to die down Christmas Eve and Christmas Day. Those are typically the slowest days for air travel.
"It was pretty busy, but yeah, it's Christmas," said Eileen Sceli, in from Canada to visit her daughter for Christmas. She is just one of tens of thousands of people coming to and from RDU this busy holiday week.
Meredith Pilat and her son Tyler were also among the crowd at RDU. They were heading to Chapel Hill to visit her parents for the holidays. They describe their flight from New Jersey to North Carolina as very busy.
"Newark was a nightmare," Meredith Pilat said.
Report a Typo