NEW YORK -- The "Bachelor in Paradise" finale started with Evan rapping his love for Carly. She is hoping that he will propose to her later that day. Grant and Lace talked about whether or not they were ready to be engaged. Grant seems to think that they would be rushing into the engagement, rather than just letting it progress. Lace feels like if they don't get engaged, their relationship won't survive after this. Nick and Jen woke up the next day feeling secure in their relationship and he actually started considering an engagement. Josh and Amanda woke up happy, but Josh wants to make sure that an engagement would be the right thing for her kids too.
Evan, Grant, Josh, and Nick met up with Neil Lane to pick out rings for their ladies. Nick told Neil that Jen is an amazing woman. We know that he won't end up with her though, because he is the next "Bachelor"! This was Nick's third time looking at rings with Neil, and Josh's second! Talk about repeat business!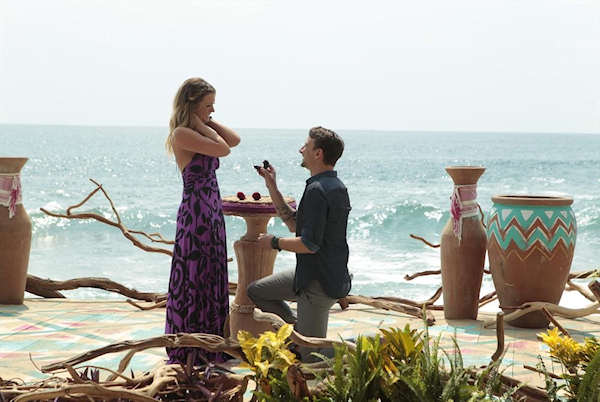 Chris Harrison greeted the couples for their final one-on-one rose ceremonies. Carly was up first. Who would have ever thought these two would end up together? She was sickened at the thought of Evan just a few weeks ago! After gushing on and on to Carly for a while, Carly did the same. Then, Evan told her that he wanted her to be his wife, and he proposed! They exchanged roses and now they are officially engaged to be married. I guess his kisses no longer make her want to puke or at least we can hope!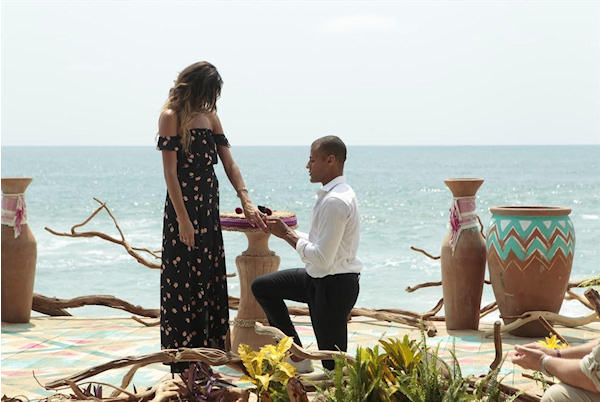 Lace walked down to where Grant was waiting. He was all smiles and asked her how she was, and she said, "I want to throw up." He said, "I believe you." She told him all of the things that she loves about him. He said that he hated not knowing what to expect and he said thinking about it for a day gave him some clarity. "The moment I met you, I knew my life wasn't going to be boring," said Grant in the understatement of the year. He got down on one knee and proposed! She of course, said "yes!"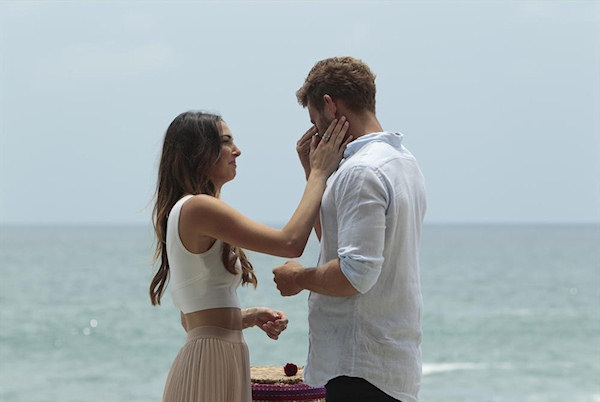 It was then Nick and Jen's turn. She said that she never felt more connected with someone and she feels ready to be his wife. She started speaking first and told him that since day one, he was all she wanted. Jen told him that she's fallen in love with him. Nick cried some ugly man tears and really started gushing about how she's made him a better person, but there's something in his heart telling him that he can't say that he loves her. Ouch! Poor Jen! "Something's telling me to say goodbye," Nick said. She left crying in a van and Nick left questioning whether he has his walls up too much and is that why he's not capable of saying "I love you" back to someone.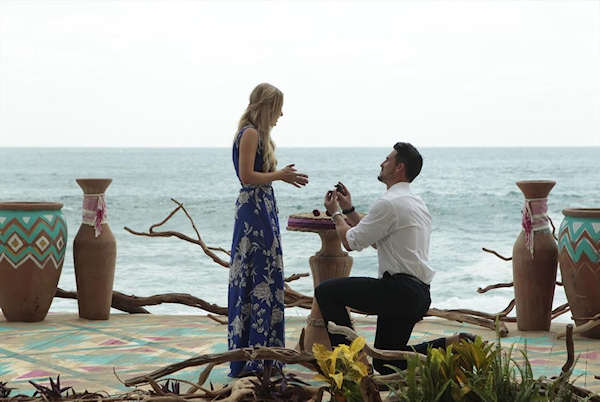 Lastly it was the couple of the season, Josh and Amanda's turn. She walked down to the beach where Josh was waiting. Amanda told Josh it only took one date for her to know that he was the one for her and it makes her heart full thinking of welcoming him into their "little family." She said she can't wait to do real life with him. Josh told her that she's the sweetest, kindest, most loving woman that he's ever met. He cried as he told her that he never knew what true love was until he met her. He told her that he's so excited to meet her daughters and promised to love them as much as he loves her. "Amanda, my love, will you marry me?" Josh asked Amanda. "Yes!" she said! They exchanged their final roses and that sealed the deal! (Anyone else notice how sweaty Josh was?!) Wow! Three proposals this season, how amazing!
We got a quick update at the end on the couples which said: Carly is actually moving in with Evan and has met his kids. Lace has moved to San Francisco to live with Grant. Josh moved to Orange County to be with Amanda and her girls and he loves the girls! Nick is ready to be "The Bachelor!" They didn't give an update on Jen just yet, but that's because she's on "After Paradise". She said that she's doing well and she is moving on. She has mixed emotions about Nick being on "The Bachelor". A psychic told her when to go on a date and told her that she is "the prize" and to not forget it! I think it was a good spirit booster for her!
Grant and Lace said that all is well with them. Grant said that he likes feeling like he has to go out of his way to prove his love to someone. They plan on getting married very soon although a date has not yet been set!
Carly and Evan came out next and they talked about how Evan was very upset about the things Carly said on the beginning of the show. He was upset even while still in "Paradise" because Carly warned him. Jade and Tanner from last season Skyped in and congratulated the happy couple! Jade even cried over how beautiful she thought Evan's proposal was! They all seemed extremely happy. Then the best thing ever happened, Carly shaved off Evan's goatee! YES!
Lastly, Amanda and Josh came out to give an update. They say they are loving life and are so excited to let everyone know that they are engaged. They have been caught a few times by the press shopping at Target and having fun on the beach with the kids. They seem very stable. At the end of the show, the confetti rained down on all of the engaged couples and the celebrating officially began! Also, great news! "Bachelor in Paradise" has been renewed for a fourth season!