DURHAM, North Carolina (WTVD) -- An Eastway Elementary school teacher is using some unconventional means to prepare her third-grade class for statewide end of grade exams.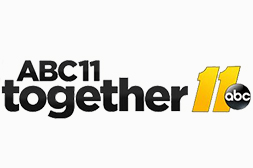 Turquoise Parker is turning to social media to inspire her students and to ABC11 to get them more comfortable with asking questions.
Parker said she wants her students to be able to question what they're reading and what the EOG exam questions themselves are really asking, so she asked ABC11 to lend her a hand in the classroom.
Reporter Stephanie Lopez paid a visit to her class Monday, to teach them how to read news articles critically and to help them break down questions.
"Being able to deal with what they have and dig deeper with the text, with the passage," Parker said, "so that when they see these hard things, they won't just freeze up, they'll actually just understand and remember from different experiences."
Want more ABC11 Together stories? Get the ABC11 News App
The lesson plan is part of the Eastway teacher's unconventional teaching style. She said she tries to find real-world applications for her lesson plans, such as using Twitter, Facebook, and Instagram to better students' writing and sentence structure.
we just met a story reporter. she told us about her life, how she became a story reporter, & how she likes her job. her name is @LopezABC11

— MrsParker&Professors (@PrkrsProfessors) February 6, 2017
"Making sure that our kids see us trying different things, I mean, it encourages them to stretch themselves out of their comfort zone," Parker said.
In addition to the media day, Parker hopes to invite lawyers and judges into her classroom next to show her students how their courtroom skills can be converted into test-tasking techniques.
Report a Typo