July 20th, 2016 --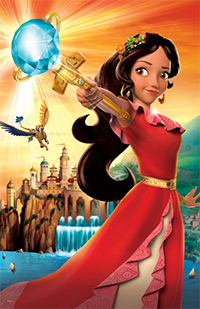 "Elena of Avalor" is an animated series that follows the story of Elena, a brave and adventurous teenager who saves her kingdom from an evil sorceress and must now learn to rule as crown princess until she is old enough to be queen. Set in Avalor, an enchanted fairytale kingdom inspired by diverse Latin cultures and folklore, Elena's journey will lead her to understand that her new role requires thoughtfulness, resilience and compassion, the traits of all truly great leaders.
Created for kids age 2-11 and their families, Elena's stories are relatable and contain valuable lessons for young viewers. Her adventures, decision-making abilities and fearlessness in standing up for herself and what she believes convey a standard of behavior for leaders. At the heart of the series is the universal theme surrounding the importance of friends and family; Elena sometimes struggles with balancing the needs of her loved ones while also considering what is best for the kingdom.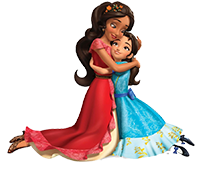 Since Elena is only 16 years old, she has a Grand Council comprised of her grandparents, older cousin Chancellor Esteban and new friend, Naomi to help give her advice along the way. Elena also looks to her younger sister Isabel, and her friends Mateo and Gabe for guidance and support. Elena learns to lead the kingdom with some magical friends by her side, including a trio of flying creatures called jaquins (half-bird/half jaguar).
Each 22-minute episode of "Elena of Avalor" will incorporate Latin and Hispanic cultures and traditions, as well as magic, mythology and folklore. The first episode ("First Day of Rule") features Noblins, elf-like shapeshifting creatures that are based on a Chilean peuchen myth; and introduces Zuzo, Elena's spirit guide, which is based on an idea from a Mayan tribe in southern Mexico that everyone has a spirit double in the animal world. In upcoming episodes, Elena and her family will celebrate Día de los Muertos and Navidad, two of the most important holidays celebrated throughout Latin America and Spain. The Latin and Hispanic influences are also present through Avalor's architecture, music and food.
The kingdom of Avalor is filled with mystery and magic, which manifests itself in four primary ways: enchanted creatures, wizardry, glimpses into the spirit world, and the magic that Elena possesses from her time spent trapped inside an amulet. Elena carries a "scepter of light," which wields various powers that she discovers throughout the series, including the ability to "see the unseen." Additionally, Elena's best friend Mateo, a wizard-in-training, practices his spells using a tamborita, a wand inspired by the drums used by the Mapuche "Machi" (shaman) in Chile.
Music plays an important role in the series, with each episode featuring at least one new original song. There are many different Latin musical styles highlighted, including Mariachi, Latin Pop, Salsa, Banda and Chilean Hip Hop.
Starring as the voice of Elena is
Aimee Carrero
;
Jenna Ortega
is Princess Isabel;
Chris Parnell
,
Yvette Nicole Brown
and
Carlos Alazraqui
voice the jaquins Migs, Luna and Skylar respectively;
Emiliano Díez
as Francisco;
Julia Vera
as Luisa;
Christian Lanz
as Chancellor Esteban;
Jillian Rose Reed
as Naomi;
Joseph Haro
as Mateo;
Jorge Diaz
as Gabe;
Keith Ferguson
as Zuzo; and
Joe Nunez
as Armando.
The recurring guest voice cast includes Constance Marie ("George Lopez") as Doña Paloma, Magister of the Traders Guild; Lou Diamond Phillips ("Longmire") as Victor Delgado, a debonair villain who uses his charisma to deceive the people around him; Justina Machado ("Private Practice") and Jaime Camil ("Jane the Virgin") as siblings Carmen and Julio, who run a restaurant in Avalor; Rich Sommer ("Mad Men") as Captain Daniel Turner, Naomi's father and harbormaster; Tyler Posey ("Teen Wolf") as Prince Alonso, a flashy and charming prince from the Argentine-inspired Kingdom of Cordoba; Lucas Grabeel ("High School Musical") as Jiku, the leader of the Noblins; and Echo Kellum ("Arrow") as King Joaquín, a monarch from the Caribbean-inspired Kingdom of Cariza who is a trusted and close friend of Elena.
The guest voice cast for season one includes Tituss Burgess ("Unbreakable Kimmy Schmidt") as Charoca, a magical volcano creature based on a Chilean myth; Ana Ortiz ("Devious Maids") as Rafa, Mateo's mother; Ivonne Coll ("Jane the Virgin") as Doña Angelica, an absent-minded and overly dramatic ghost; Hector Elizondo ("Last Man Standing") as Fiero, a wicked wizard; Odette Annable ("The Astronaut Wives Club") as Señorita Marisol, Isabel's enthusiastic young teacher; Danny Trejo ("The Adventures of Puss and Boots") as Antonio Agama, a popular Avaloran hero; Anthony Mendez ("Jane the Virgin") as King Juan Ramón, a monarch from the Argentine-inspired Kingdom of Cordoba; Eden Espinosa (Broadway's "Wicked") as Orizaba, an evil moth fairy banished to the spirit world; Marsai Martin ("black-ish") as Cat, a budding scientist and adventurer; Aasif Mandvi ("The Daily Show") as King Raja, a monarch from the Indian-inspired Kingdom of Napurna; and George Takei ("Star Trek") as King Toshi, a monarch from the Japanese-inspired Kingdom of Satu.
The series was created by Emmy Award winner Craig Gerber, who also serves as executive producer. Silvia Cardenas Olivas is the story editor, and Elliot M. Bour is the supervising director. The series' cultural advisors are Marcela Davison Avilés, founder of The Chapultepec Group, co-founder of the international Latino arts initiative Camino Arts, and Director of Humanities Programs at the FDR Foundation at Harvard University; and Diane Rodriguez, Associate Artistic Director of Centre Theatre Group and co-founder of the theatre ensemble Latins Anonymous, who was recently appointed by President Obama to be a member of the National Council on the Arts.
Emmy Award-nominated Tony Morales is the composer, Emmy Award winner John Kavanaugh is the songwriter/music director, and Rene Camacho serves as Latin music consultant. Latin Grammy Award winner Gaby Moreno performs the series' theme song.
"Elena of Avalor" is a production of Disney Television Animation. It carries a TV-Y parental guideline.