ABC11 is teaming up with Offline to help you avoid average weekends. Stay updated about the best things to do in your city with Offline and ABC11!
Whether you get sweet, get swanky or get sweaty, we've got some end of summer date ideas to make 'em swoon!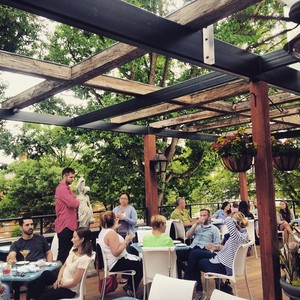 Go Greek at Taverna Agora
Taverna Agora recently opened its doors in a new spot off of Glenwood and we think it's just what the area needed. A Greek kitchen and bar, Taverna Agora is reminiscent of typical gathering places scattered throughout Greece. They have their sights on presenting an authentic experience with the addition of a couple modern flares like craft cocktails and Sunday brunch-we can get down with that. We can also get down with a menu littered with simple and fresh spreads and dishes. We recommend going with a group and ordering several spreads to start with. The more the merrier!
The space is just as charming as traditional cafs and agoras you'd find in Greece. With blue and white checkered table clothes, an occasional belly dancing performance and a rooftop patio that'll make you forget you're still in Raleigh, we have a feeling you won't soon forget your experience at Taverna Agora.
(Raleigh)
(Photo via @tavernaagora)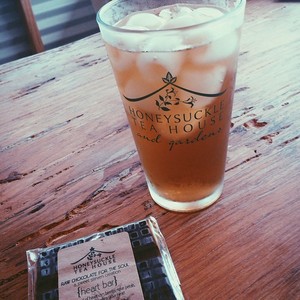 Get In Touch With Nature at Honeysuckle Tea House
We interrupt your normally scheduled busy life to bring you this important message: Sit up straight.
Deep breath in. Hold it. Think of all the stressors you're carrying. Deep, slow breath out, releasing those stressors right with it.
Excellent. Now, imagine a beautiful farmland where friendly community herbalists greet you, ready to teach you how the natural remedies in herbs, berries, and mushrooms can help your well-being. Sounds lovely, huh? Luckily, this place does exist outside of your mind, and it's right inside the Triangle, too.
Honey Suckle Tea House stands on sixteen acres of land devoted to developing local, community-oriented farmland, orchards, and herb gardens. They offer various teas, smoothies, pastries, and even raw herbal chocolate at their tea house, as well as workshops and guidance for those interested in growing for their well-being. The grounds are entirely kid friendly, so we encourage you to spend some time relaxing and remembering to take good care of yourself before you tackle the rest of life's challenges.
(Chapel Hill)
(Photo via @jmbedrosian)
Get Sweet at the Two Roosters Ice Cream Social
Gather friends or family and head to the Two Roosters Ice Cream Social at Sola for a scoop or two. They'll be serving up several signature flavors, including their Sola inspired Mini-Donut with cinnamon sugar syrup. Yeah, we'll be having two scoops, too. Two Roosters sources their milk and cream from Homeland Creamery in Julian, NC, a family dairy farm where they ensure their cows are treated with care and mindfulness.
(Raleigh)
(Photo via @tworoosters)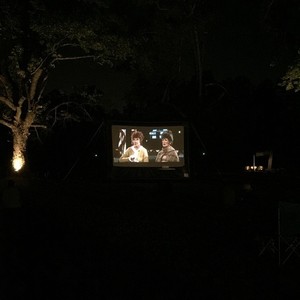 Watch Moonlit Movies in the Vineyard
Durham Movies and wine go together like Hall & Oates, Burt & Ernie and PB&J. Soak in some summer breezes on the lawn while sipping local wine from Doyle's Vineyard-there's nothing more romantic!
The quaint Doyle's Vinyard opens its lush outdoor space to moonlit movie gazing. And did we mention it's free? Roll up at 7:30p (movies start right after sunset, but you'll wanna get there early and claim your space!), bring some lawn chairs, and enjoy blockbuster classics with local vino (or soda and water for purchase if you're packin' some little ones), food truck desserts, and wine slushies! There's no classier way to beat the summer heat than sip sweet vino while frolicking in the grass. Free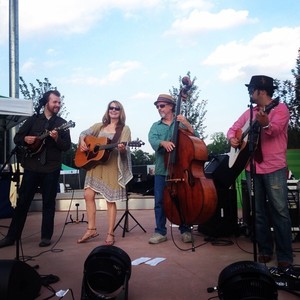 Join the Sunday Ramble in Midtown Park
Head over to Midtown Park for sweet Sundays filled with bluegrass, BBQ and beer.
Midtown Park in North Hills is wooing Raleighites with a sweet Sunday bluegrass series featuring some of the area's best pickers, plus BBQ, beer and a kids component too! For maximum comfort, bring your lawn chairs, blankets and coolers (but no outside alcohol) to lounge on the lawn. 4011 Cardinal Grove Blvd, Raleigh. Free
Snag Something Tasty at the Farmers Market
There are tons of vendors at the Farmers Market here in Raleigh-we really dig the two shops outside that sell delicious cookies! This makes for a great first date, too. Ya dig?
"You might go to the farmers market with the mission of buying a cookie from one of the outdoor vendors, but you get so much more once you start looking around. There is an amazing restaurant on site for delicious brunch (on Sundays) and a seafood restaurant that will blow you away. If you're more of a home body buy some fresh ingredients and treat yourself to a delicious and local home cooked meal. Food isn't the only great thing here either. There are tons of local farmers selling anything from fresh veggies and meat to flowers and herbs and even jams!
State Farmer's Market Restaurant, Raleigh
(Photo via @snaptoit)
Cheers Your European Style Beer at the Beer Garden
Kick back with a pint in hand at the massive Raleigh Beer Garden.
Prost! Salut! Cheers! Whatever salutation you use to commence the sipping of cold beer, you can use 'em all (and maybe learn a few) at the newest addition to Glenwood South's beer scene, the Raleigh Beer Garden. Boasting a casual 350 beers and a European style drinking hall that'll put an end to all your Oktoberfest daydreams. The interior is rustic, with a lot of nods to nature-there's even a massive Oak tree inside, yes we said inside. The Raleigh Beer Garden is set to open on July 21. Stay up-to-date with grand opening plans and to take a peek inside on their
Facebook
.
(Photo via @elleclarity)
Get the Giggles at RLT's SPAMALOT
Hit Raleigh Little Theatre for their musical theater spin on the classic comedy Monty Python and the Holy Grail.
Raleigh Little Theatre is presenting SPAMALOT, a musical ""lovingly ripped off"" (their words, not ours!) from the film
Monty Python and the Holy Grail
. Just as the film parodies the Arthurian Legend, SPAMALOT does too, but it's not an exact replica of the film. The original Broadway production won three Tony's and was nominated for 14, and RLT's presentation will be the first all-local production.
The show will run on Thursday, Fridays, Saturdays and Sundays from 8/28 to 9/13. Show starts at 8p (Sunday at 3p) and tickets start at $20."
(Photo via @maisonloup)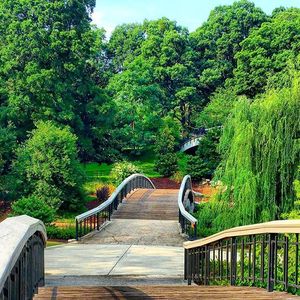 Find Some Peace at Pullen Park
A stroll through Pullen Park will ease any woes a stressful week brings on. Bring a blanket and a spread for a picnic, or stay active and explore every nook and cranny.
Pullen Park is conveniently located right on the outskirts of downtown Raleigh and the perfect place to while away an afternoon. With plenty of natural beauty to take in and several man-made additions that are perfect for entertaining kiddos (or your inner kid) there's no shortage of fun to be had. Rent a paddle boat, cruise around and around on the carousel or take a train ride on the C.P. Huntington miniature train, a one-third size, near-replica of the famous locomotive of the same name.
There are also tennis courts, softball fields, a community center and art center and aquatic center if you're interested in exploring any latent hobbies!" Free.
(Photo via @mdcjr123)
WANT MORE THINGS TO DO?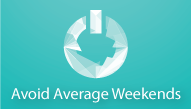 Offline helps you avoid average weekends.
Tired of searching for "things to do?
Offline's app and website
keeps thousands of the Triangle's best events, places, dates ideas and adventures in your pocket at all times.