FUQUAY-VARINA (WTVD) -- Authorities in Fuquay-Varina have arrested a teenager who allegedly robbed a Fuquay-Varina high school student at gunpoint Wednesday morning.
The incident happened around 10 a.m. at the Shop n' Save on Broad Street.
Authorities said the suspect, a 15-year-old male was charged with four counts of robbery with a dangerous weapon and conspiracy to commit robbery.
Police arrested him around 1:45 p.m. at Fuquay Gun and Gold. Authorities said during the arrest the suspect kicked two officers.
More charges are pending, police said.
Ben Griffin, who is a senior at Fuquay-Varina High School, told ABC11 that he had just left the corner store after buying a drink when the suspect approached him.
"All my friends were in my car waiting for me, and I go leave the Shop n' Save, and before I open my car door I see a sketchy figure looking at me all weird, but I didn't think anything of it," he said. "I open up my car door, I'm about to close it, and the guy grabs it puts a gun up to my lip saying, 'Give me all your possessions or I'm gonna hurt you guys.'"
Griffin said the suspect took his phone and wallet and took one of his friend's phone and wallet as well.
"I was a wreck. I was shocked and I was shaken up," he said. "I just like stood there in one place and didn't say a word at first until like he kept on talking to me. The guy hit my lip with the gun. Thank God, all my friends are all right."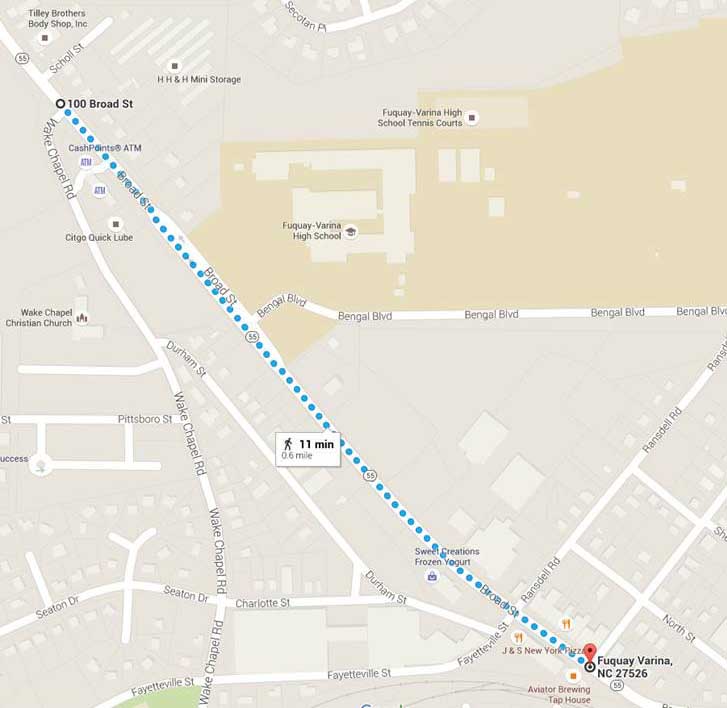 The teens then drove to the Speedway gas station at 100 E. Broad Street, which is directly across from Fuquay-Varina High School, to report the crime. The school was placed on lockdown as a precaution. It was later lifted around noon.
Police said the suspect left the scene in a blue vehicle with a spoiler on the back. A woman was reportedly driving the vehicle and an infant was in the back seat.
The vehicle was last seen on Stewart Street headed towards Judd Parkway.
The investigation is ongoing. Anyone with information is asked to call (919) 552-3191.