RALEIGH (WTVD) -- Just days before Gov. Pat McCrory is supposed to respond to the Department of Justice on House Bill 2, one of the the largest LGBT events in the state is getting ready to take place in the heart of the capital city.
Friday's rain did not stop organizers of Out! Raleigh from taking their annual picture one day before the event. This year they're looking forward to greeting more than 50,000 guests and enjoying more than 150 vendors.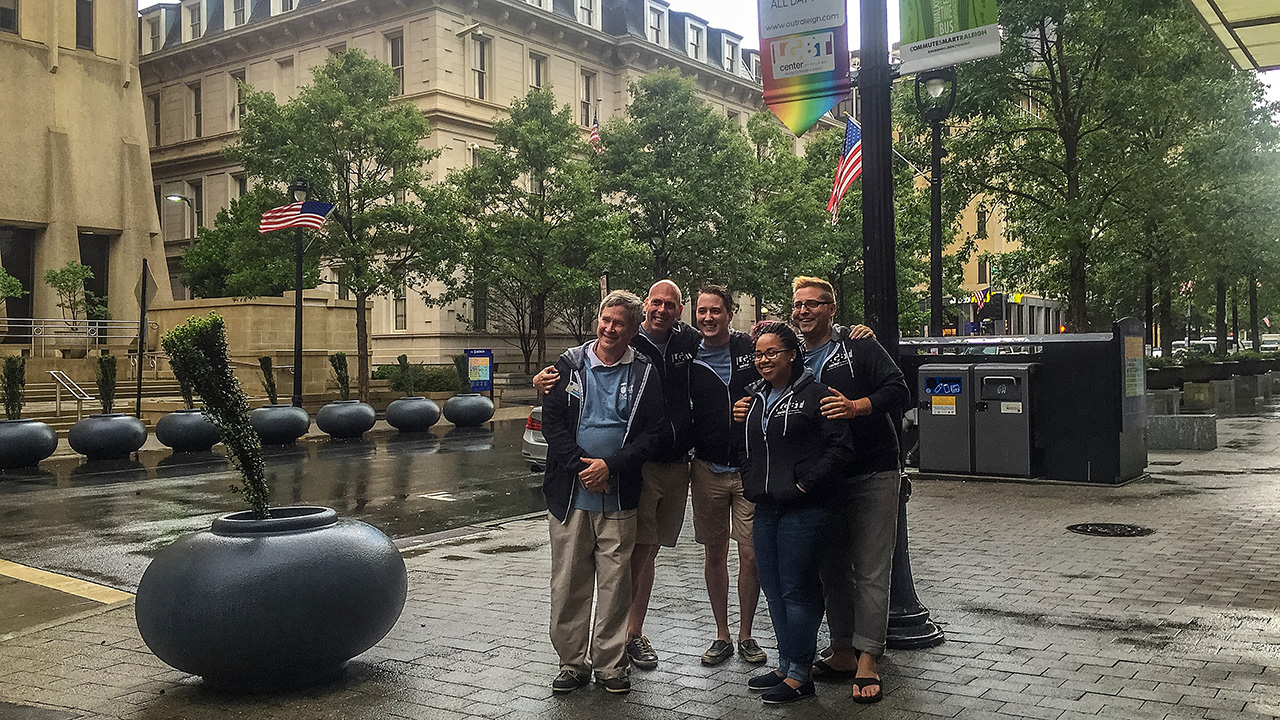 Out! Raleigh organizers, who braved the rain Friday.
The event runs from 11 a.m, to 6 p.m.
It's a family friendly event that will most likely have one more topic of discussion in the crowds.
"We are not what they are trying to give us with HB2," said Scott Hoar, one of the organizers of Out! Raleigh.
He said he hopes that as the event, now it its sixth year tops attendance numbers, it will have impact on the future of HB2. Among many things, the bill bans transgender people from using bathrooms of the gender they identify with, and local governments from creating their own anti-discrimination laws.
It's an issue that has sparked argument from all sides. In addition to the event's usually staffed security, ABC11 asked a spokesperson with the Raleigh Police Department whether security on its end will be increased.
Read all ABC11 stories about HB2 here
We were told, as we have concerning security with other events, that it cannot comment on any security plans.
Hoar said he hadn't heard of any HB2 specific demonstrations planned for Saturday. He is wondering, however, what will happen just days later.
Monday is the deadline the U.S. Department of Justice has given lawmakers to either get rid of the law or lose billions in federal funding. The Department of Justice said the law violates a number of civil rights laws. If it stands, North Carolina stands to lose $4.7 billion in federal funding.
REPORT: BILLIONS IN FEDERAL MONEY AT RISK IN HB2 FIGHT
In turn, supporters of HB2 have filed a lawsuit against the D.O.J.
"This is a radical overreach by the Obama administration trying to force in really objectionable and extreme definition of the Civil Rights Act of 1964," said Tami Fitzgerald with the NC Values Coalition.
For now, as they wait for Monday's deadline, organizers with Out! Raleigh say come Saturday they'll continue to do what they have always done.
"We welcome everyone," Hoar said.