DURHAM (WTVD) -- Mark your calendars! ABC11 wants you to join us for our big Match Madness campaign on Saturday, March 19.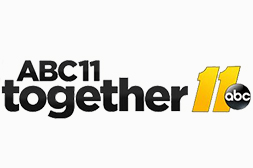 As part of ABC11 Together we're partnering up with
Be the Match
to help connect patients with life-saving bone marrow donors. Joining the registry is as simple as swabbing your cheek, and it could lead to a success story like that of one Raleigh family.
To learn more about Be the Match, click here!
Sitting down with Alex Monks and his parents recently, the family was all smiles, laughing and joking with one another. But, there was a time in the not too distant past when 9-year-old Alex was fighting for his life.
"He woke up one Sunday morning not feeling well, he had petechiae [small red or purple spots on his skin] and big black bruises all over him," recalled his mom, Karen.
He was taken to Duke Children's Hospital where it was confirmed that Alex had a condition called aplastic anemia.
"That's when the bone marrow just stops working, and the only way to cure that is to get new bone marrow in," his mom explained.
So, doctors began searching for a match. Thankfully, they found one. But, while he was waiting in the hospital, Alex caught a life-threatening fungal infection.
"The fungus did end up spreading to his cheek, he just had a little cut on his cheek and it spread there. And they gave us the sit down with, you know, 'he may not make it, this is very deadly fungus, it could easily hop to his sinus and hop to his brain,'" Karen solemnly shared.
Amazingly, Duke doctors got the infection under control enough to do the bone marrow transplant. It was successful, and with the boost to his immune system Alex was able to finally fight off the infection, too.
Now, he's happy, healthy, and ready to soon head back to school. As for the donor who saved his life? The family only knows it was a young man from Germany. But, they hope to one day find out more and meet him face-to-face.
"I would say, 'so you're the guy!' I'd be like, 'thanks for saving me, at least! Thanks!'" Alex said, with a big grin on his face.
The family is hoping that by sharing their story, they'll encourage more people to sign up for the
Be the Match
registry.
"You're saving somebody's life! It's such an easy thing to do!" Karen exclaims.
Again, the Match Madness Be the Match event is taking place Saturday, March 19th. It's being held at the Streets at Southpoint in Durham from 11am to 2pm. Be the Match is looking for donors between the ages of 18 and 44.
For more on the event and some answers to common questions, click here!
To learn more about Be the Match, click here!