Friday's story - Part 2
Some pregnant mothers are not getting the care they need due to the Medicaid backlog. It's a story we've followed since last spring, but it's not just the mother's that are in need of care; it's their newborn babies too.
Jessica Lynn says she's been trying to get Medicaid for her sick, seven month-old.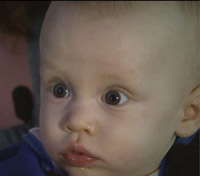 "I just want him to be seen for the rash, the cough. I don't want it to turn into pneumonia or something worse," Lynn said.
Lynn says her pediatrician's office is refusing care due to unpaid medical bills. It's a problem that could be solved by pending Medicaid coverage.
She says she has $2,000 worth of hospital bills, and a $1,600 doctor's bill because her child, Alex, has been waiting since birth to receive his Medicaid approval.
Lynn says she tried approaching her pediatrician about seeing her son if she made payments towards those bills.
"I said, 'Well does it have to be paid in full? I will pay like 30, 40, 50 whatever I have to pay,' and they said they need the full amount. They don't know when they are going to get their money. That is why they won't see him," Lynn said.
Lynn says she received Medicaid coverage when she delivered Alex, and that her two older kids are also covered. She says she doesn't understand why receiving Medicaid coverage for Alex has been such a problem.
"I've called and I've been getting different stories from different people and I can never get a hold of the worker, never get a hold of a supervisor," Lynn said.
Lynn is not alone. Nicole Sorber is also waiting to hear back from Medicaid. She applied back in August when she first found out she was pregnant and she's still waiting to hear back from Wake County Social Services.
"I haven't even had a phone call from them," said Sorber.
She says the wait has been frustrating.
"All they tell you is, 'Well, we're still processing December of last year's applications,' and that we're pretty much, I'm on my own," said Sorber.
She says can't find a doctor that will see her without receiving approval and that the only care she's been able to receive is a visit to the health department.
"They listen to the heart beat, they measure my stomach and they send me about my way." Sorber said. "I haven't had any ultrasounds to tell me if the baby is growing adequately."
Sorber said one of her fears about the pending status is that something could happen during her pregnancy and she wouldn't know about it.
"It's a fear of losing the baby that scares me the most because I'm not able to get the proper prenatal care that I need," Sorber said.
We brought up Sorber's and Lynn's concerns with Wake County Social Service and after a few days, they received some positive news - their Medicaid was approved.
Now Sorber will get her prenatal care and Lynn's son Alex can be seen by his doctor.
"I'm happy, no more doctor bills coming in the mail, no more denials for him being seen," Lynn said.
And we're learning of more problems.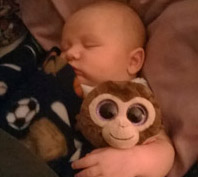 Raleigh mom Elisabeth Hammond says she can't get Medicaid approval for her 2-month-old son, Preston. Hammond says she delivered Preston while on Medicaid and still has the coverage for herself but Preston's Medicaid application is still pending. With Medicaid approval she says her son can't get medical care her needs.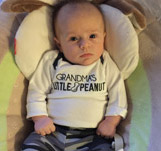 Brookelynn Penta is also another Wake County mom with Medicaid seeking approval for her 2-month-old son Darren. Penta had Medicaid throughout her pregnancy and now her child should too, but she's still waiting for the approval.
We've brought these issues to the attention of the State Department of Health and Human services and they said the individual counties in charge of the Medicaid approval can "expedite processing of a new application for any urgent medical issue, such as pregnancy."
A rep for Wake County will only tell us they are working through the backlog.
Wednesday's Story - Part 1
Medicaid is supposed to ensure families get the medical attention they need. For Cumberland County mom Bisceglia Gaston, that need was prenatal care, but she says she believes the system failed her.
"No one can tell you how to feel when you lose a child. It hits you very deep," Gaston said.
Gaston said she feels like the backlog in the Medicaid system caused her to lose her child.
Her story started in October, 2013 when she found out she was pregnant. As a single working mom, she applied for Medicaid so she could get prenatal care for herself and her unborn baby.
She was told the process would take 30-45 days.
"I started to worry in December, and that's when I called around to my case worker and asked her what I need to do. When do I receive a letter?" Gaston said. "We're backed up, all they kept saying is we're backed up. And I said I understand, but I'm pregnant. I really need to be seen by a doctor."
Gaston was considered high risk because she had a history of preeclampsia with her previous pregnancies and delivered her first child at 28 weeks.
She continued to check with Cumberland County Social Services.
"I kept calling, and calling repeatedly, and all I kept getting is we're backed up, you're going to have to wait," Gaston said.
The wait continued and at five months pregnant, Gaston went to the health department and demanded to see a doctor, although she had yet to be approved for Medicaid.
They referred her to a doctor, and she finally got her first prenatal appointment.
"The baby's heartbeat, I heard for the first time," she said. "He had a very strong heartbeat, and I was so happy about that."
They scheduled her first ultrasound for just a few days later. But before she could be seen again, she started having problems.
"I was in severe abdominal pain and I couldn't bear it," Gaston said.
Gaston was rushed to the hospital.
"She said, 'I think it's a ruptured placenta,'" Gaston said.
She says the doctor not only was her unborn child's life in danger, but her life was as well. She had to have an emergency C-section.
"She said if you had the proper prenatal care, you could have detected this a long time ago. This just did not happen," Gaston said.
Gaston's son Jeremiah was born at just 23 weeks weighing one pound, seven ounces.
"He was born so early he had hemorrhaging on the left side of his brain. His organs started shutting down," Gaston said.
A day after he was born, Jeremiah passed away.
"With prenatal care, I think my son would have been here," Gaston said.
While she dealt with the horrible loss of a child, she never heard about her Medicaid.
But she did hear from the bill collectors about her thousands of dollars in unpaid medical bills.
"For me, another $15,000," she said.
Six months after she delivered and buried her son, Gaston got her Medicaid approval.
The approval dates back to when she was pregnant.
"I had to bury my son, so yes, it's a very hurtful thing to see you were approved the whole time and you not know," Gaston said.
Despite the approval, Gaston still had problems as she says her bills were still not covered. Gaston reached out to ABC 11 to find out why.
We got in touch with the director of Cumberland County's Social Services. She admits that Gaston's case was part of the Medicaid backlog and was not processed in a timely fashion.
The director blames the backlog on the implementation of the state's new computer system known as NC FAST, the same system that caused a major backlog in processing food stamp benefits.
She also blames open enrollment for the Affordable Health Care and new Medicaid rules.
After our involvement, 100 percent of Gaston's medical bills from her pregnancy and her son's birth were taken care of.
Gaston is worried her case is not unique.
"I wouldn't want no mother to go through what I went through," she said.
Gaston is not the only person who had to wait for answers. There are more than 12,000 untimely Medicaid applications across the state and in our area. The latest numbers from the state show Wake County has 2,992 such applications. Durham County has 137, and Cumberland County has 313.
A rep with the NC Department of Health and Human Services told ABC11 that since the peak of untimely pending applications at the beginning of June, counties have been successful in lowering the overall backlog by 89 percent (down from a peak of 104,070).
Also, it should be noted that 25 percent of the applications received from healthcare.gov were duplicate applications. Additionally, only 9 percent of the processed applications have been eligible and approved for Medicaid. The remainder (91 percent) were denied, withdrawn or transferred.
NC FAST
NC FAST is an electronic processing system that was introduced in North Carolina in 2012. The system was originally used for f
ood stamp applications
. ABC11 began to hear about the system backlog in July of 2013.
"This was a monumental undertaking. It's not easy, and we're aware of that fact that we have counties that are behind," said State Social Services Director Wayne Black. "People need their benefits and that's our number one goal right now, to get the food to the people that need it."
A New Concern:
Despite being backed up, Medicaid enrollment went live on the NC FAST system in
October, 2012
.
Wake County hired more workers to help handle the Medicaid roll-out last year.
The Truth Uncovered
The I-Team went undercover in January to investigate what was really wrong with the new system.
A worker at the Department of Social Services revealed a number of flaws in the new system.
"You can't do your job," said a worker.
This worker said what the I-Team had been hearing since the system was introduced - that the switch to NC FAST was actually slow and painful.
"Can't get work done, which is very frustrating," said the worker.
The worker shared
other problems
with the I-Team during the investigation.
Other Families Affected
Jessica Wilson filed for Medicaid in the summer of 2013 when she learned she was pregnant.
What was supposed to take 45 days to process turned into months - all the way up to her due date.
Mary Harris
was pregnant when we heard of her story.
She filed for Medicaid in February but said her many trips to Cumberland County social services haven't been positive.
"She just threw her hands up at me pretty much, and told me to be prepared to have the child without insurance," Harris said.
The good news for Harris and Wilson, once we reached out to Wake and Cumberland Counties, both moms did received their Medicaid.
Report a Typo