CHAPEL HILL, N.C. (WTVD) -- Not so long ago, Orange and Chatham County Superior Court Judge Carl Fox thought blood cancer would take his life.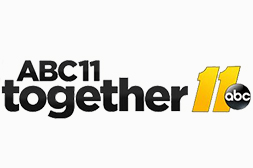 That was before he received a stem cell donation from two umbilical cords, after he failed to get a bone marrow match. It's why he wants everyone to get on the bone marrow registry.
"At one point they told me that they would be fortunate if they could keep me alive for three months, back in August," Fox said. "So it's been, it's been a miracle, nothing less than a miracle."
RELATED - Bone Marrow donation drive held for Superior Court Judge Carl Fox
MORE - Save The Fox: Orange/Chatham County Superior Court Judge still looking for bone marrow match
Fox said his doctors told him he might even be able to go back to work in May, but he's still a big advocate for growing the bone marrow registry.
Finding a match is so difficult, he said he had to turn to the umbilical cord blood for treatment after no matches turned up on the national registry. He was one of over 14,000 people looking for an eligible bone marrow donor.
"Those two cords saved my life," Fox said.
His friends and family started the "Save the Fox" effort to try to find a match - holding drives, adding over 4,000 people to the registry - and while they found no match for Fox, they did find three matches for others.
ABC11 is a big champion for "Be the Match." It's why we sponsor the Match Madness registration drive at the Streets of Southpoint mall in Durham on March 18.
Check out all the information for Match Madness here
Fox said he'd like to encourage people to go and get registered. Even though he said he's doing much better, his "Save the Fox" group is still going strong in an effort to add as many people to the registry as possible.
He said the process of donating the cells need, if a match is made, is not as painful or lengthy as some might perceive.
"Given the fact that someone's life hangs in the balance, it's about like watching a couple of shows, hour long shows on TV, so I just urge everyone to sign up and donate," he said.
Report a Typo