CHAPEL HILL (WTVD) -- Kallie and Carson Arthur are perhaps closer than most siblings their age - and not just because they're both proud Tar Heels at UNC-Chapel Hill. Instead, their bond is one that was formed years ago when their family was dealt a devastating blow.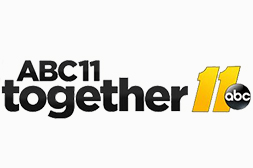 "I was diagnosed with acute lymphoblastic leukemia at age 3 1/2. I went through about a year and a half of chemotherapy and was pronounced in remission," Carson explained.
CLICK HERE FOR MORE ABOUT MATCH MADNESS
However, that only lasted 6 months before the cancer returned. And this time it proved resistant to treatment.
"Our doctor said the best chance for survival was a bone marrow transplant," he recalled.
Thankfully, doctors found a match in his older sister Kallie, although the prospect of donating was scary for the then 5-year-old.
"I can remember we were on our way home from the hospital and my dad said, 'We got the results back and you are a perfect match for Carson.' And I was nervous, and I didn't understand what bone marrow was, and didn't know what the process would be like," Kallie admitted.
But despite her fears, she realized it was her brother's only hope, and so she went through with the transplant which proved successful, giving Carson a new lease on life.
"January of this year is 13 years post-transplant, and honestly, I've just been living the life of a normal person ever since," he said.
Now, the pair is active in encouraging fellow college students to join the bone marrow registry - with Carson serving as president of Be the Match on UNC's campus. He says it's the least he can do after being blessed with a second chance, something his sister teases she won't soon let him forget.
"I won't hold it over his head forever, but if he's being little hard to get along with, I'll remind him of the donation," she said, sharing a knowing grin with her brother.
However, not all patients are as lucky as Carson. In fact, only 25 percent of patients find a match within their family. That's why ABC11 is hoping you'll come join us, Radio One, and Univision 40 for the annual ABC11 Together Match Madness - Bone Marrow Donor Registration Drive this Saturday, March 19. It's going on from 11 a.m. to 2 p.m. at The Streets at Southpoint in Durham. Be The Match is looking for donors between 18 and 44 years of age. For more information on common questions
CLICK HERE
.
Report a Typo