RALEIGH (WTVD) -- Raleigh's Helping Hand Mission is making sure families have a warm meal this Christmas.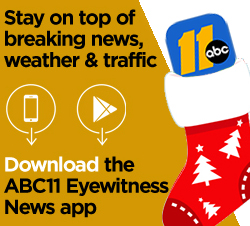 On Thursday, volunteers began serving a Christmas Eve dinner at the New Bern House in downtown Raleigh about 11:30 a.m. The mission had enough food to feed about 400 people.
Donations of toys and clothing are being handed out to those in need as well.
At the Helping Hand Mission center on Rock Quarry Road, 800 love baskets were prepared and distributed to families, packed with food and toys for the children.
RELATED: More about Helping Hand Mission
Volunteers said the look on people's faces as they walk through the door is what motivates them to come back year after year to serve.
"Seeing them say thank you, 'without y'all we wouldn't have had this' -- that fills my spirit and gives me so much joy and happiness," Willie Thorpe said. "I don't know if I want to be anywhere else."
Helping Hand Mission is also preparing to serve another meal on Christmas Day at the New Bern House beginning at 11:30 a.m.
Report a Typo