KNIGHTDALE (WTVD) -- It's a good day for 77-year-old Mary Bobbitt as she takes the first swing at bringing down the screened-in porch that caused her so many frustrations.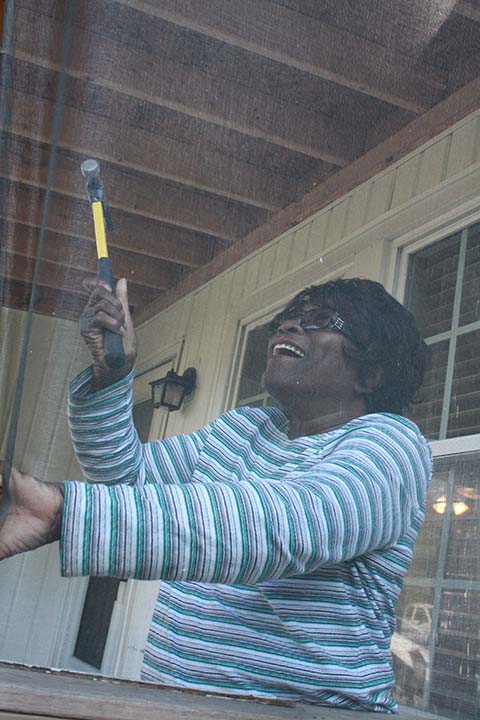 Mary is getting a new screened in porch and deck thanks to the Remodelers Council, a group that's part of the Home Builders Association of Raleigh-Wake County.
The group reached out to me after seeing the mess Mary was left with after she paid an unlicensed contractor $18,000 to build her a screened in porch and deck. Licensed contractors say the entire structure was built wrong and is unsafe.
Read More: Local woman says dream porch has become a nightmare
But thanks to the Remodelers Council, Mary is finally getting her dream.
"I'm just so happy I just don't know what to do," Mary said.
This week licensed contractors, along with volunteers, are demolishing Mary's unsafe screened-in porch and deck the unlicensed contractor built.
"Giving back to communities in which we live in and work is really important. We can't just take, we have to give too, and that is something we all feel or we wouldn't be here," Betsy Lingenheld with the Remodelers Council said.
All of the labor and supplies are being donated. Once the old porch is torn down, the Remodelers Council is going to start fresh and build Mary a usable, screened-in porch and deck, complete with a handicap ramp.
"Having everyone show up and be positive, it's fun because construction is not always a positive job," Lingenheld said.
Mary watched as her porch came down. Sitting there with a big smile on her face, Mary said to Lingenheld, "Come back to my house when this is all done, and we are going to have a little fiesta."
Lingenheld says she will be there. Mary can't wait for the party now that she knows her dream porch will finally be a reality.
"I just thank God for the people that are helping me so I can enjoy my life a little better," she said.
The next step is pouring the footings, and then the rebuilding process can start.
We want to thank the Home Builders Association of Raleigh-Wake County for taking on such a big project and being so generous in helping our viewers.
Click here to learn more about the organization.
The Remodelers Council is under the Association, and is a great resource if you are looking to find licensed contractors and electricians.
Click here for tips on how to hire a contractor for your job.
Here is a list of the companies helping with Mary's project:
ABC Supply Company
Allura Fiber Cement
Blue Ribbon Residential Construction
Builders FirstSource
Carolina Glass & Mirror
City Electric Supply of Knightdale
Design Home Renovations
DuPont Tyvek Specialist
Duo-Fast Carolinas
Habitat for Humanity of Wake County
Hilliard Contracting
JDS Engineering
Level Homes
Network Electrical Services of Raleigh
Paradise Found Construction
Residential Construction Resources
Roofwise
Service Building Supply
Stock Building Supply
TOI TOI of NC - Portable Sanitation, Inc.
Triangle Pest Control
Upright Builders
wasteAWAY
Report a Typo