RALEIGH, North Carolina (WTVD) -- A local nonprofit called Hope Reins pairs rescued horses with children who have suffered traumatic experiences, and that bond is helping to heal their hearts.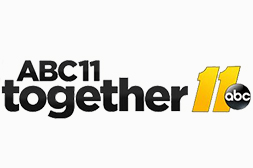 At Hope Reins, everyone has a story.
"I grew up in a home that looked really great from the outside, but my father was an alcoholic and extremely abusive," the organization's founder and CEO, Kim Tschirret, said. "And I don't ever remember feeling safe in my own home. The place that I went to, where I was safe, was my barn and with my horse."
And every horse has a story, too. Twinkle, a mini horse, was rescued from a junkyard at just two years old. Her hooves were overgrown and up-turned up like elf shoes.
"Our Ferrier is the one that actually found her, and rescued her, and named her Twinkle because she said that she had just a twinkle left in her eyes. She was almost gone," Tschirret said.
Now, the rescued horse is working to help children open up about the hardships in their lives.
"When my dad died the horses helped me," 7-year-old Ashlyn Guin said. "All your secrets, that you don't like to hold inside, you can just tell the horses."
The Guin children have been coming here since their father took his own life two years ago. He was in the military and battled PTSD, traumatic brain injury, and depression. Wednesday would've been his birthday.
"It's really hard for them to see other children, happy families, and then, you know, kind of looking at me 'I really wish dad was here why did he die,'" their mother, Amanda Guin, said. "I beg and plead with God to help me when I don't know what to do next."
The sessions have helped her son open up more - "because I don't think other people would understand," 9-year-old Garrett Guin said.
The horses show the children all wounds may heal over time.
Hope Reins served 350 local children last year, 50 percent of which live below the poverty line and it's all thanks to donations.
You can learn more about Hope Reins here.
Report a Typo