RALEIGH (WTVD) -- A gift bag may be easier but it's often thoughtful presentation that makes a grand statement.
Home designer and professional stager Lisa Go agrees.
"If it's really cute, I think they'll be happier about the wrapping paper than the gift," she said.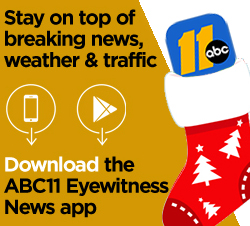 She's been busy getting her clients' homes ready for the holidays, but she's not spending a fortune. She's getting creating and using everyday items to make that grand statement, like gluing peppermints to a box or using an old sweater as gift wrap.
Here's what she suggests: Get supplies at your local craft store or dollar store. Christmas items may be on sale for as much as 40 to 50 percent off. Dollar store ornaments can be used as gift toppers and items from the floral section can spruce up a package.
"It looks so much more designer and chic," Go said.
One big way to save big is using a roll of brown paper. Go compared the price of gift wrap to the price of brown paper and found that gift wrapping paper is three times the price.
When she added a red bow, pine cones, and garland for a rustic look and topped it off with an initial ornament, the presentation came together. And the total cost? A $1.50.
Another suggestion was the salvage the scraps. Go said to think about mixing two gift wrap patterns and then add a floral sprig and ornament to top it off. The cost for that was about $2.50.
For those who have trouble with making bows, tulle can be your best friend. A big spool of tulle is about $4 and can go a long way.
Report a Typo