RALEIGH (WTVD) -- For the ninth consecutive year, they met at the community college system headquarters in Raleigh for the "No Room at the Inn" rally.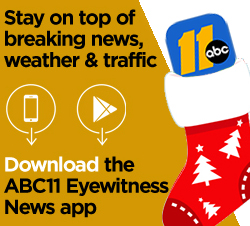 On Thursday, about 50 people from different social advocacy groups spoke out for equity in higher education. Specifically, in-state tuition for young Latinos known as 'dreamers.'
Dreamers were brought to the United States years ago by their parents. They've grown up here. But because they are foreign-born and undocumented, they have to pay out-of-state prices at state colleges and universities.
"Instead of paying a thousand, I had to pay $3,500 for 12 credits, which put me behind a year," said student Amayrani Calvario. "I could only do 12 credits per semester. I had to get three jobs at one time. I had to work two jobs simultaneously, and I had to go to school at the same time."
Led by NAACP president Rev. William Barber, the group marched to the governor's mansion and called on lawmakers to give dreamers the same access to education as students who were born here.
"They've lived here all their lives and they can never go back home because that's not their home. Their home is here," said Ricky Hurtado of Adelante Education Coalition/ "And so, barring them from opportunities here in places like North Carolina, they're kind of left with no options, and they're not going anywhere, so it's really just detrimental to the future of our state in general."
The governor and Republican lawmakers have not been warm to the idea. For that matter, neither has Democratic Attorney General and gubernatorial hopeful Roy Cooper.
Advocates say they will not stop speaking out.
Report a Typo