FAYETTEVILLE (WTVD) --
There is a happy ending to a bunny crime that was robbing five children with special needs of an Easter tradition that brought joy to their lives.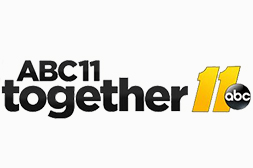 And, we have a generous ABC11 viewer to thank for seeing a need and offering to help.
Bob Bruno was devastated when he learned a thief walked away with a 7 foot inflatable bunny he had displayed in his front yard. When we met up with him Thursday, we also found other decorations on his front porch had been vandalized.
Read more: Family's Easter bunny stolen from front yard
"I don't make a lot of money, I am disabled, and what little bit we have, my wife tries to make it pretty out here for the kids," Bruno explained.
Bruno called store after store trying to find a replacement. Just when he thought Easter would be tarnished for his grandchildren, an ABC11 viewer saved the day.
"I know I had a bunny in our garage that we weren't using, so I figured the kids have kinda outgrown the bunny, so I can donate it," Scott Wallace said. "And it can actually go to a family that actually need it and can appreciate it."
Friday night, we delivered the bunny to Bruno's Fayetteville home, and the kids were elated. Seeing the his grandchildren's joy almost brought Bruno to tears.
"It just make my Easter. I'm happier than a clam, this is just beautiful!" Bruno exclaimed.
"It makes you feel good, I mean you're doing something good for another family, so you are just paying it forward," Wallace explained. "and hopefully whoever took the bunny needed it more than the other man that had it."
"I want to thank [Wallace] from the bottom of my heart. It means the world to me," Bruno said.
Bruno now has that pink bunny displayed in his front yard instead of the backyard where thieves struck.
Report a Typo