NASH COUNTY (WTVD) -- A fire ripped through the home of two Wake County teachers, leaving nothing but walls and rubble.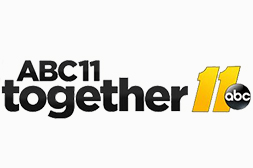 "See my new skylight?" said Calvin Mills as he opens the front door to show the second floor of his home completely gone. You could still hear the fire alarm going off.
He points to an ornate desk and mirror that you see when you open the door; that's now charred and fallen over.
"We got married, one of the first pieces we bought, the centerpiece is this," Mills said.
Mills is a teacher at Southeast Raleigh High School. His wife, Sharon Wiggins-Mills, is a teacher at Zebulon Middle School. The two were at work Monday when they got the call their house they built and have been living in for 15 years, was on fire.
When Calvin Mills made the drive to his home in Middlesex, he saw firefighters and the smoke.
"It's like a gut punch," Mills said. "You leave with something and you come back with nothing."
No one was home at the time of the fire.
"We had contemplated about moving my mother-in-law in," said Mills. "That's why I say God is good, because we were going to move her in. Glad we hadn't because she's elderly and if we moved her in, there probably wouldn't have been time for her to get out."
See photos of the fire
Mills said what happened to their home still has not fully registered. Under all the debris or burned in the flames are important documents, photos, even sports memorabilia autographed from Carolina Panthers players for his 12-year-old son.
Even though they are working to rebuild, the Mills family is overcome by the outpouring of support. Their fellow teachers have been helping them out with their classes, even picking their son up from school.
One of Sharon's co-workers at Zebulon Middle School
started a GoFundMe page to raise money for the family
. Donations have already started to come in but it's the people behind the donations that mean the most to the Mills family.
"One of my wife's students donated, that catches your heart," Mills said.
He's also received text messages from former students offering support and he points out its Teacher Appreciation Week.
"Being in the classroom you may not see all that appreciation but then to see it coming out that way, it shows you're really appreciated and then your co-workers go above and beyond. You can't help but get choked up," Mills said.
The family also has a pony that ran off when the fire started. Their neighbors have since been able to capture the pony and are helping to take care of it.
"With everything that's going on in the world, from the political perspective, to all the crises everywhere else, the sun is shining bright," Mills said.
The cause of the fire has not yet been determined.
Report a Typo