FAYETTEVILLE, North Carolina (WTVD) -- A new homeless shelter will be dedicated this weekend. Operation InasMuch is behind the project.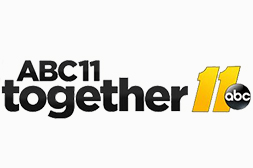 The organization has been helping the homeless for years and as they celebrate walking into a new facility, they also congratulate a couple who once slept on the shelter's porch on their new home.
"We're excited, we just know this place is going to make such a difference for so many men," Executive Director Sue Byrd said.
The doors at the lodge haven't opened yet - the dedication ceremony will be at 3 p.m. Sunday - but that statement couldn't be truer for Special Olympians Greg Williams and his wife, Linda.
"Finally got a place not sleeping in a tent," Williams said.
The Williamses are finally walking into their new home after Operation Inasmuch found them a place to live.
Want more ABC11 Together stories? Get the ABC11 News App
"It doesn't work if all we do is provide a bed, shower and their lives don't change. If someone wants out of homelessness, this is the place to do it," Byrd said.
The state-of-the-art "Lodge at Operation Inasmuch" sleeps 40, but offers so much more than a roof and a bed. The shelter offers resume help, job training, budgeting classes and substance-abuse therapy.
But for the Williams family, who now have a new lease on life, they're still just barely out of the woods they used to sleep in.
"We need furniture. A lazy boy and a chair because I like to put my feet up," Greg Williams said with a smile.
Byrd said she won't put her feet up until homelessness is wiped out in the All-America city.
"Our goal is to work ourselves out of a job," she said. "Because if we do that we don't have the problem of homelessness."
Report a Typo