FOUR OAKS (WTVD) -- Word spread fast about a closed-door meeting between CSX representatives and Four Oaks town leaders. And when homeowners found out, many of them rushed over demanding answers.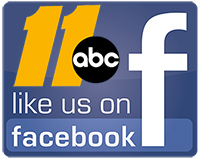 Chopper 11 HD flew over the Johnston Regional Airport not long after representatives from CSX flew to town for their first official meeting about Four Oaks' pursuit of the company's $272 million rail hub.
Mayor Linwood Parker, one of the project's biggest proponents, attended the meeting. ABC 11 reached him afterward by telephone.
"(CSX) had looked at the site but they had not reached any decision on it," Parker said. "So (Four Oaks is) still part of the process, but we don't know whether we got a site or not."
Just In: Four Oaks town leaders meet with CSX in closed-door meeting regarding controversial rail hub project. #abc11

— Joel Brown (@JoelBrownABC11) April 21, 2016
While Mayor Parker, three town and county commissioners, and economic development leaders met with CSX inside offices at the airport, furious property owners waited outside.
"Yeah, we waited outside to see who all was there. I mean we wanted to confirm they were having a meeting," said Randy Johnson, one of the many vocal Four Oaks property owners worried the CSX project will force them to sell their homes to make space.
RELATED: HUNDREDS PACK FOUR OAKS GYM TO OPPOSE CSX RAILROAD HUB
Johnson is angry about what he calls the "secrecy" of the bid to push the project through despite homeowner fears of traffic, noise and air pollution.
"We've not known about any of the meetings," Johnson said. "They've had all these meeting behind closed doors and today was a just another example of them trying to get together without anybody knowing about it."
RELATED: RESIDENTS SOUND OFF ON CSX: 'LEAVE FOUR OAKS ALONE!'
But Mayor Parker insists the potential for job creation is too good to pass up.
Boosters of the project paid for a full-page ad in the Smithfield newspaper, this week, claiming the rail hub would create 1,500 new jobs.
"That's the reason I'm in this, to see if we can make sure we get jobs around Four Oaks for people to have," Parker said.
No commitments were made at the meeting. According to Parker, CSX is evaluating several other sites for the hub.
But Parker is still pushing hard to build in Four Oaks, despite those homeowners' concerns.
Report a Typo