RALEIGH (WTVD) --
A hit-and-run accident left a local woman without a car, but her story ignited the compassion of our viewers.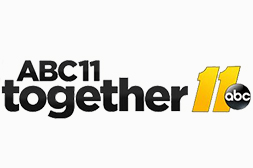 Wake County mother Na'Kol Curtis was hit on I-540 eastbound earlier this month. She had just passed the Capital Boulevard exit when an 18-wheeler flatbed truck crossed into her lane.
The rear of the truck clipped the front of Curtis' Honda Civic and dragged her and her car into the center divide.
Read More: Raleigh mom says truck hit her, kept going
The accident left her with cuts, bruises, a burn, and a totaled car. Her insurance provider was unable to assist in this situation because she only has liability and did not have any identifying information about the truck that hit her.
After the story aired, viewers contacted ABC11 wanting to help Curtis. Eventually a Franklin County couple, who asked to remain anonymous, decided to donate their daughter's 2002 Honda Civic to Curtis. The wife told ABC11 she and her husband decided to donate the car because "it's the right thing to do...we're not doing this for fame or recognition."
Curtis was not expecting viewers to help out in the way they did.
"I wasn't sure of the outcome," she said. "I was only really expecting, like I said, either the company or the driver to come forward from the accident. I wasn't really expecting too much more from it. But this is completely a huge blessing."
The 30-year-old mother said the first thing she would do with her new car is pick up her daughter from school.
"God still has angels down here on earth looking over us," she answered when asked about what she told her 6-year-old daughter Lleya about the ordeal. "Even when we don't think so or we think we're undeserving or unworthy, He's still here."
Curtis wants to thank everyone who contacted ABC11 in regards to her misfortune.
"Thank you so much! I love ABC11 News! I'm so grateful for you guys," she said.
Report a Typo