RALEIGH (WTVD) -- You will see the giving spirit throughout the Triangle this Christmas. Many people will spend the day giving back.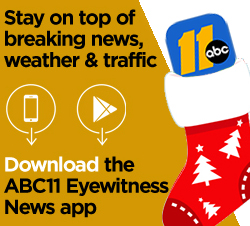 Helping Hand Mission at 501 New Bern Avenue in Raleigh served Christmas dinner after serving Christmas Eve dinner there Thursday to about 400 people.
Durham Rescue Mission served a hot breakfast to men staying at the shelter Christmas morning. The shelter had its annual Christmas party, complete with a dinner and toy giveaway, Wednesday.
Golden Corral at 6129 Glenwood Avenue in Raleigh opened its doors to the elderly, physically disadvantaged, and needy from 11 a.m. to 2 p.m.
Volunteers from the Jewish Federation of Durham-Chapel Hill are participating in Mitzvah Day. It includes 30 community projects like cooking meals at local shelters, cleaning parks, and making blankets for the homeless.
Report a Typo