FAYETTEVILLE (WTVD) -- Angel Henderson is heartsick. Her dog was picked up by a stranger while she was inside a Fayetteville convenience store.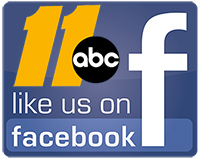 Fayetteville police want to talk to the guy. They said he didn't break the law, but Henderson said he broke her heart.
"It has really got me crushed" she said.
Henderson is a disabled veteran. She said she was training her pit bull puppy as a service dog, to help her cope with PTSD and traumatic brain injury.
"For the last couple of nights. I have been sleeping with his little vest, and his little toy. I'm just hoping that will bring him back," Henderson said.
Last Friday, Henderson stopped at a convenience store on Bragg Boulevard. She let the dog out and told a passenger to watch him while she went inside. They didn't.
On surveillance video, you can see a man walk out of the store who sees the pup running toward him. He picks up the dog, approaches several customers who don't claim the pup, so he takes him. Police say he didn't steal it.
"The dog was wandering loose, no identification, we want to make that clear," said officer Antoine Kincade of the Fayetteville Police Department. "There was no way of him determining if that dog belonged to anyone in that convenience store."
Henderson has posted missing flyers around the convenience store. Her message is simple and from her heart:
"If you have my dog I just hope he is safe. I hope he is safe, and taken care of. I just hope he will give him back."
There is a reward for the pup's safe return.
Anyone with information is asked to contact the Fayetteville Police Department.
Report a Typo