HILLSBOROUGH (WTVD) -- Flags have gone missing and some were even burned outside of a small Hillsborough church. The flags were rainbow flags, put up in support of the LGBT community in the wake of the House Bill 2.
Two of the flags were found burned early Saturday morning as church-goers arrived for a youth fundraiser.
"Burning has a different kind of emotional feel to it," said Pastor Jay Kennett, of Hillsborough United Church of Christ.
The two put up to replace those flags were discovered missing Thursday morning.
Pastor Kennett said although it is extremely unnerving that someone would burn something on church property, the reaction to the vandalism has been nothing short of powerful.
Initially the flags were put up to show anyone passing by in the Hillsborough area that the church supports and includes the LGBT community. But since the flags were destroyed or stolen, the church is now connecting with people all over the world.
"If I could have hoped for something the flags would do, that is what it is," Kennett said.
Now Kennett's small church in the woods has been on the minds of people from all over. He said he even received a message of support from a woman in Scotland, who told him she's keeping the church in her thoughts.
Read all ABC11 stories about HB2 here
"People that feel connected to me just because we put rainbow signs by our signs, that is incredibly powerful," Kennett said.
Kennett said he talked to a man in California, who reached out to offer support for the church. This particular man had recently lost his partner of 18 years. Kennett said through their conversation he was able to offer a listening ear and words of comfort to someone with whom he never would have connected.
Kennett has been pastor of HUCC for 11 years and said it has always been a church that welcomes people of all backgrounds.
He said he was disheartened to see a bill such as House Bill 2 passed in North Carolina and just wanted to visually show the church's support.
Though he never expected a flag to be burned on church property, it's not the first time the church has been a target after taking a stand.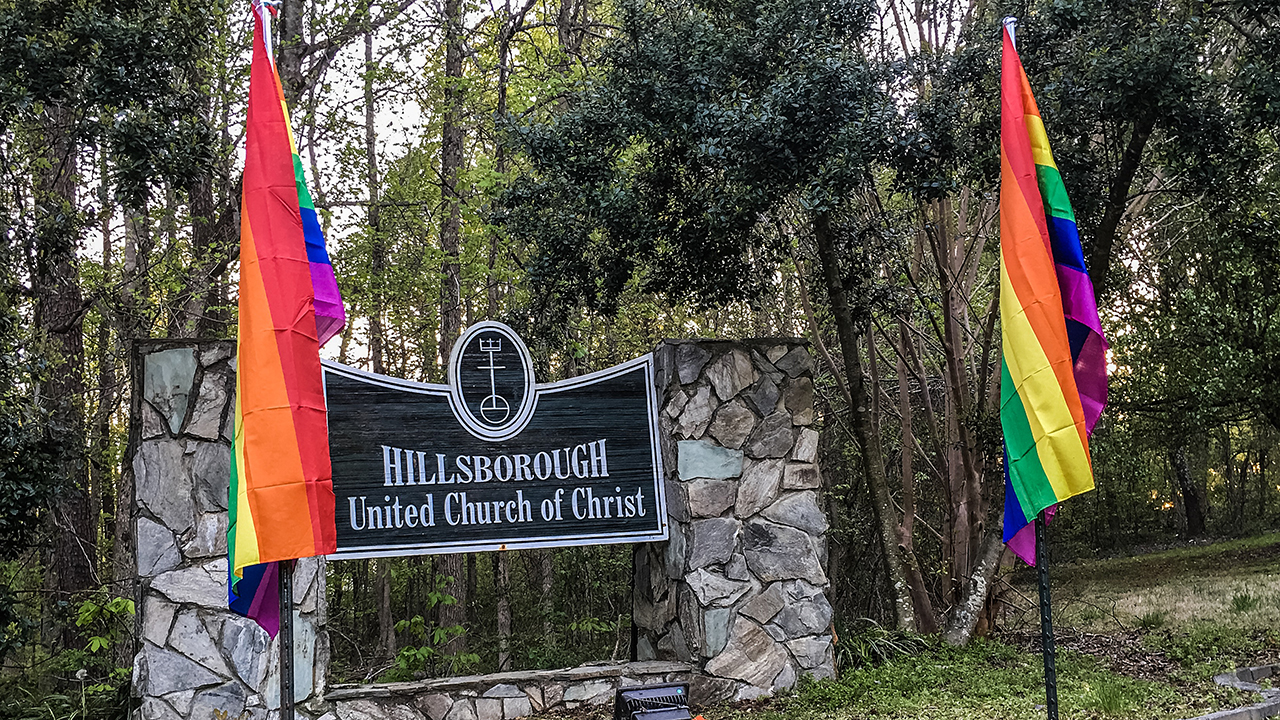 Kennett said when the church posted signs against North Carolina's Amendment One banning same-sex marriages, people would steal their signs.
Just like then, Kennett said they will continue to replace their rainbow flags.
Orange County deputies are increasing patrols around the church. Kennett said members of the community have offered to do the same.
But flags or no flags, the church will still stand on the same side of these issues.
"We are who we are and we've always taken a stand to be welcoming," Kennett said.
He also said he's been thinking a lot about the person or persons behind destroying the flags.
He said he would like the chance to be able to talk to them so they can have a conversation about their differences.
"Not even if we can completely agree," Kennett said. "But perhaps I can see the humanity in them and they can see the humanity in me and my faith community, and it begins a bridge of understanding."
Report a Typo