DURHAM (WTVD) -- A Durham rapper is shaking up the mayor's race. Pierce Freelon, a native Durhamite is better known for his platform on stage, but now he hopes to perform on a bigger one--as the Bull City's next mayor.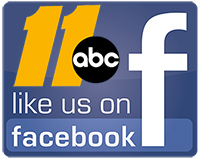 "I'm ready to put that work in," Freelon said.
Stay on top of breaking news stories with the ABC11 News App
Freelon is a former political science professor, turned activist, artist and rapper. He says the decision to run was 10 years in the making. He says the idea was put off to start Black Space, a youth community center in the heart of Durham.
But now the 33-year-old Freelon wants to take on one of the city's main challenges: Growth.
WATCH: PIERCE FREELON DROPS A QUICK VERSE FOR ABC11
"A lot of that development is really exciting. It's thrilling. But one of my biggest priorities is to make sure that this development benefits all members of Durham's community," Freelon said.
Freelon says this also means keeping housing affordable.
LOFTY ACCOMPLISHMENTS RUN IN THE FAMILY
If his last name rings a bell, you're right.
His mother, Nneena, is a six-time Grammy-nominated Jazz singer.
His father, Phil, is a Durham architect who recently built the Smithsonian African American History and Culture museum in Washington D.C.
RELATED: BLACK HISTORY FINDS HOME ON NATIONAL MALL WITH NEW MUSEUM
Art is in his pedigree.
But politics is not.
ENERGIZING YOUNGER VOTERS
This father of two is up against two political heavyweights who also announced their run for Mayor Bill Bell's seat in November: City Councilman Steve Schewel and former City Councilman Farad Ali.
Another obstacle is convincing Durham's voting base, made mostly of black, female Democrats 40 and older to choose him instead.
Freelon said he is taking a different approach.
"The other thing I need to do is broaden this electorate and get these millennials excited and out to the polls," Freelon said. "I think I am a unique candidate. One of the reasons young people don't vote because they are not excited about the candidates."
The date for candidates to file is July 7. Mayor Bell has not endorsed anyone yet.
According to the Durham County Board of Elections, the youngest mayor to ever serve the city was Wilbur "Wib" Gulley, who was 37 when he was elected in 1985. He served two terms.
WATCH: MAYOR BILL BELL'S FINAL STATE OF THE CITY ADDRESS
Report a Typo