RALEIGH (WTVD) -- Rex Hospital's Neonatal Intensive Care Unit (NICU) just got a higher designation that will allow staff to care for premature babies at an even earlier age, as opposed to sending them to another nearby hospital, while Mom recovers separately.
The new designation a big comfort for many new parents who already have so much to deal with after giving birth to a pre-term and possibly sick newborn. That was certainly the case for first-time parents Jessica and Cory Alexander.
Jessica knew she wanted to have her daughter at Rex, she just didn't plan on having her quite so soon. But, she at 29 weeks she had developed severe preeclampsia. Her blood pressure was spiking and her life was in danger, and that's when doctors decided they had no choice but to deliver her baby early.
"They said it was time, which was scary," Jessica recalled.
And so, little Riley made her entrance into the world 11 weeks early, which meant she ended up staying in the NICU at Rex for 63 days. At first, Jessica was able to stay there with her, but then the inevitable day came where mom was discharged but baby had to stay behind.
"It was awful, when I got discharged. I think that was the first really hard day because I never thought I'd have a baby and have to leave her in the hospital and not go home with her," Jessica explained. "It was emotionally exhausting, it was physically exhausting, it was scary. There was guilt whenever we left, because we felt like we should never leave her side. And there was fear when we left, because we thought 'we can always get that call that something has happened.'"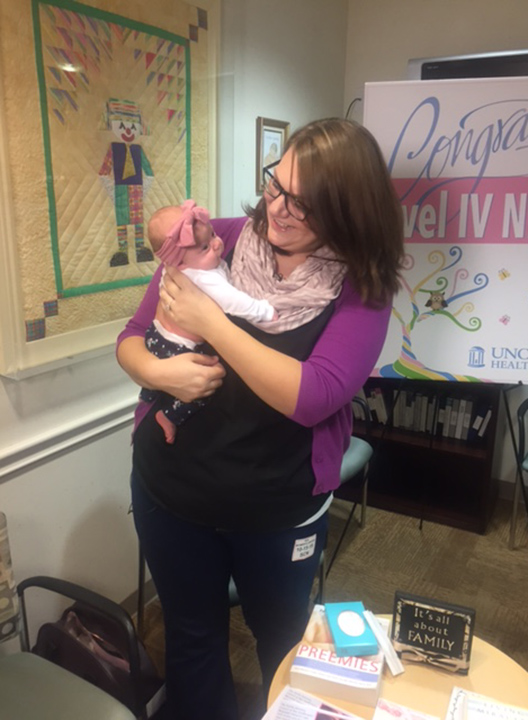 But these are emotions NICU nurses and staff are used to seeing with parents, and as a result they're trained to help offer comfort and coping skills, which was a huge blessing to the Alexanders.
"It was more than them just taking care of our baby. They were taking care of me, too, and my healing process, and the whole transition, and how to be a first-time mom, and how to be a first-time mom to a preemie, to how to cope with the fact that we have to leave them. They were like our counselors, our teachers, our nurses, and our friends, all the same time," she says with obvious gratitude in her voice.
And so, with the nurses and doctors the family celebrated month milestones at Rex. As an amateur photographer, Jessica had an idea to take some special pictures for Riley's 1 month and 2 month birthdays, and the staff was happy to accommodate her. It's all part of the family-approach Rex takes to helping moms, dads, and babies following their birth.
"One of the things we do is invite parents on rounds with us in the morning or at any time during the day... that's important for them to know what's going on with her baby from day to day," says Rex NICU Medical Director Marie Ambrose-Thigpen, MD. "We have a developmental specialist here who works with the moms and the dads and shows some ways they can position the babies so that we optimize the development for the babies," she adds.
But again, all of this can start much sooner with younger babies, thanks to Rex's new NICU designation.
"We are now a Level IV neonatal intensive care unit. And for us that means we can now provide comprehensive care for babies, for us it's 28 weeks and above. Prior to this designation, we actually took care of babies who were 30 weeks and above," Dr. Ambrose-Thigpen explains.
And this meant that while Riley's parents didn't get to choose when she was born, at least they got to choose where she was born and where she'd stay for her medical attention.
"I knew I wanted to have my baby here and then when they told me that she was able to stay at Rex I was so happy," shares Jessica. As for Riley, she's now almost 4 months old, gaining weight, doing great, and back at home with Jessica and Cory.
For more help for new parents, check out these Rex videos:
Rex NICU Mom to Mom video
Rex NICU Stories: Dad to Dad
Report a Typo