UPDATE 4:31 PM - Rain is tapering off in some areas but it's expected to pick back up tonight.
UPDATE 3:40 PM - The left lane of I-440 east in Wake County at exit 2 Western Boulevard is closed.
UPDATE 2:52 PM - Both lanes of I-40 east have reopened near Exit 301 (I-440 West).
UPDATE 1:58 PM - The right lane of Capital Boulevard northbound near Burlington Mills Road is closed.
UPDATE: 1:54 PM - The ramp to exit 12 Mangum Street on the Durham Freeway southbound is closed.
UPDATE: 12:53 PM - A wreck on the shoulder of I-40 east in Durham County near mile marker 278 is causing delays.
UPDATE: 12:51 PM - Another wreck on I-95 south in Harnett County near Dunn. The left lane is closed near exit 75 Jonesboro Road.
UPDATE: 12:50 PM - A wreck is blocking the right center lane of US-1 south in Wake County near Raleigh at mile marker 11.
UPDATE: 12:37 PM - Accident causing backups along I-40 at Rock Quarry Road in Raleigh.
UPDATE: 12:27 PM - The left lane of I-95 south at mile marker 73 has been reopened in Harnett County near Dunn. Heavy congestion is reported.
UPDATE: 12:01 PM - Accident causing slow downs at I-440 at Six Forks Road in Raleigh.
UPDATE: 11:59 AM - All but one lane of eastbound I-40 is shutdown near the I-440 split due to a jackknifed big rig.
A Flash flood watch has been issued for much of the ABC11 viewing area until 5 a.m. Tuesday as the drenching rainstorm that flooded parts of Texas and Louisiana over the weekend continues to soak us.
Click here for weather alerts from the National Weather Service.
Click here for First Alert Doppler XP
Click here to download the ABC11 First Alert Weather app.
Click here for the latest weather forecast.
ABC11 Meteorologist Don "Big Weather" Schwenneker says stream and creek flooding are the biggest concern.
"This could lead to some localized flooding in low-lying areas and places with poor drainage, especially if they are clogged with leaves," he said.
According the the WPC, we have a bulls-eye over us for 2 to 4 inches of rain through Wednesday morning.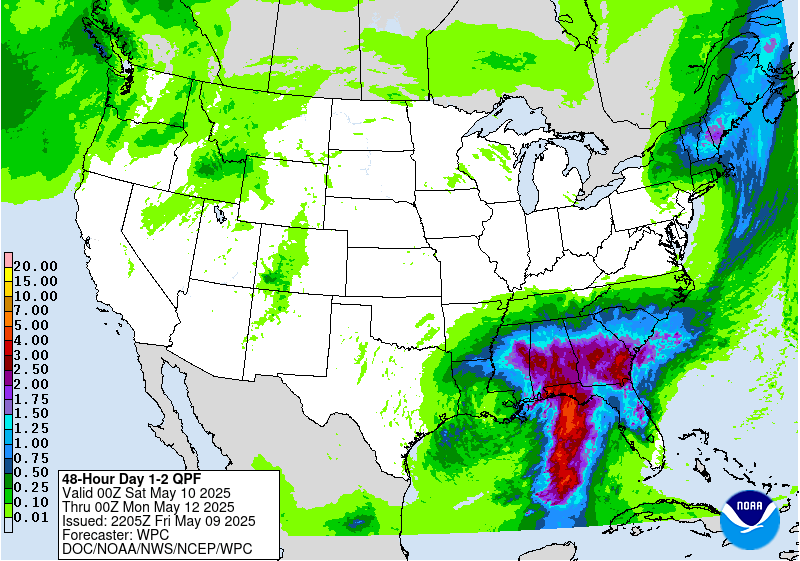 ABC11 Meteorologist Liz Horton said by 11 a.m. Monday, we had already received more than an inch of rain.
The wet weather has been to blame for several accidents. Multiple lanes of Interstate 40 were blocked in several different areas Monday morning due as authorities working to clear wreckage.
The Highway Patrol said as of noon, they responded to 16 accidents in Wake County alone.
"All significant rainfall will be gone after tonight, but a northeasterly flow of damp air will keep our weather generally cloudy Tuesday into Wednesday," Schwenneker said. "There will be pockets of showers or drizzle at times Tuesday into Wednesday, but there will also be some dry periods during the two days. Temperatures won't change a lot during this time."
Temperatures will hold within the 60s during the rainfall.
However, Schwenneker said high pressure will bring at least sunshine Thursday and Friday, allowing daytime readings to climb well into the 70s, perhaps reaching 80 degrees in some places Friday afternoon.
Another frontal system brings some rain on Saturday, followed by clearing and cooler weather on Sunday.