RALEIGH (WTVD) -- New Air Jordan shoes were released Saturday, and that's why several people were waiting in line outside Social Status as the sun came up Saturday.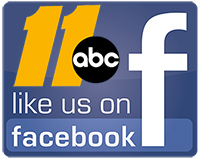 Among those in line at the apparel store in City Market was James Harris, who drove all the way from Greenville to get the shoes.
"Two guys came up with masks and guns out and were demanding we give up our money," Harris said. "Arguably the scariest experience of my life."
Harris said one of the men waiting got special attention from the two robbers.
"They made him take off his shoes that he had on," Harris said. "They made him give, they took his watch. And he had a book bag on. I'm not sure what was in the book bag but I'm sure it was something like his laptop, something like that in there. And they took that."
Harris said when the robbers took off, all the victims headed for their cars and drove for safety.
But he didn't know until Tuesday that the man who had lost the most in the robbery got a measure of swift revenge - using his car to mow down one of the robbery suspects, 19-year-old Jashon Estes.
"That is crazy," Harris said.
On Tuesday, when Estes made a court appearance, the wounds on his face had scabbed over. His battered arm was in a bandage.
He listened as the prosecutor explained to the judge what happened.
"This defendant was injured in, uh, one of the victims hit him with his car. Shortly thereafter shots were fired also," said prosecutor Doug Faucette.
When Estes asked for bond, the prosecutor told the judge that Estes had recently been convicted of robbery and possession of a stolen gun.
The judge refused bond.
The victims who were robbed while waiting to pay $200 for each pair of the Air Jordan 12 Flu Game shoes figured the robbers knew why people were in line that they would have plenty of cash.
PREVIOUS STORY: 1 ARRESTED, 1 SOUGHT AFTER DOWNTOWN RALEIGH ROBBERIES
All of them told ABC11 that they are grateful to the victim who helped catch one of the suspects by running him down with a car.
But Harris said it was a risky move.
"Being that they had weapons, I don't really think that was a good thing to do but I understand it though, I really do," he said.
Police are still looking for the second suspect.
Report a Typo