DURHAM, North Carolina (WTVD) -- A room full of children at Durham Rescue Mission's women's shelter watched the tall girls and boys in ballet slippers before them in amazement. It didn't take long for the little ones to start mimicking what they saw - toe points, jumps, pliés. Before long, these children were dancing with trained ballerinas and dancers.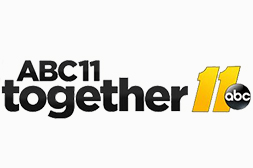 Instructors with
The Cary Ballet Company
have made it their mission to visit women's shelters around the Triangle.
They're offering a free beginner ballet class to children
who live there.
Michelle Gisondi, with The Cary Ballet Company, has a goal of exposing the children to an art they might never get a chance to see.
"Art is storytelling. Ballet is storytelling. And through those stories, we can connect and find commonality in each other that we might not otherwise," Gisondi explained.
Theodora Chefney lives at the Good Samaritan Inn in Durham with her 8-year-old son and 3-year-old daughter.
"I was struggling, trying to find a job and housing," Chefney shared. "I needed a new direction. I needed something new, a fresh start."
Chefney says she grew up seeing ballet and liked it and always wished she could do it.
"But when I grew up, you know, it just didn't happen," she said. Chefney was thrilled when she heard her children could meet and watch the dancers from The Cary Ballet Company.
The program is called "Plié All Day," and with enough funding, the dance company can visit more shelters and offer more than one class at each one. Each student gets a tutu and ballet shoes.
"My son is so excited," Chefney said. "He's been talking about how he did a grand saute!"
If you'd like to donate toward classes for children at local shelters, click here.