RALEIGH (WTVD) -- Community leaders gathered at The Glenwood Club at the Woman's Club of Raleigh Wednesday for the "Moving Beyond Hunger: Food Systems for Food Security Summit."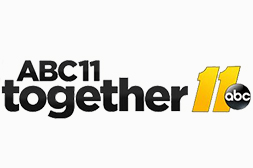 The summit is hosted by the Capital Area Food Network, which is made up of citizens and organizations working to support, sustain and improve the food system.
Leaders say they're striving to end hunger when one in five children in Wake County don't know where their next meal is coming from and one in seven people - or more than 142,000 people - in Wake County struggle with hunger.
"With 20 percent of the kids in our community who are hungry we probably know somebody who's hungry and you may not know it," said Stan Holt, of the United Way. "We're looking at farming issues, we're looking at issues of the environment, and we're looking at issues of economics and regulatory policy."
They're also discussing some of the main issues contributing hunger such as poverty and a lack of education about healthy foods.
They say hunger impacts us all, even if it's not directly.
"If we have children that are hungry in school, they're not gonna learn as well," said Erin White, Capital Area Food Network Co-Founder. "They're gonna have behavior problems. They're just not gonna be as good in a school setting."
The findings from the summit will help formulate a strategic plan to fight hunger.