RALEIGH (WTVD) --
UPDATE: The couple announced on Facebook after desperately checking their hotel room one last time, they found the wedding band under the bed. Read the original story below:
A Youngsville couple is searching for a wedding ring that went missing during First Night festivities in downtown Raleigh.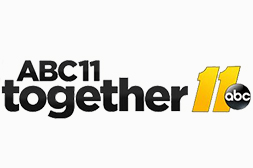 Devan Wilkins and her husband will be married four years this May.
"I'm a very sentimental woman and of course we can replace it but it's not his wedding ring that we exchanged on our wedding day," Wilkins said.
Her husband's wedding band slipped off Saturday night as the couple rang in the New Year.
"His ring is a little bit bigger than normal so it slides freely on his finger, and we got back to the hotel room and realized that he lost it," Wilkins said.
The couple retraced their steps from Woody's restaurant at City Market to the site of the acorn drop in City Plaza to the Holiday Inn on Hillsborough Street where they stayed that night.
So far nothing has turned up, so pair are turning to social media.
"There's been so much response. A lot of people have been sharing my post. People are very hopeful that we'll find it. They've been praying and sending positive words of encouragement," said Wilkins.
She hopes the ring's unique design stands out in the search.
Pictures of the silver, tungsten steel band have already been shared hundreds of times on the ABC11 Facebook page.
"I feel like if anyone saw it they'd be able to say this is the one. It breaks my heart that it's missing, and I feel helpless I can't find it. I know that miracles happen, so I'm just hoping that we are recipients of a miracle," Wilkins said.
Report a Typo