HOLLY SPRINGS, North Carolina (WTVD) -- A Holly Springs High School social studies teacher and wrestling coach is in for the fight of his life after being diagnosed with Stage 4 liver cancer.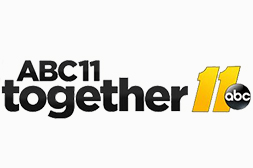 Nick Nosbisch -- or as his student call him, Coach Noz -- is hoping to have a fighting chance after new treatment, but he needs help from the community to be able to afford it.
Donate for Coach Noz's treatments here
.
Read more about his journey here
.
The school's athletic director, Rod Whitesell, pointed to a photo of Coach Noz where one of his wrestlers is hugging him right after a win. Whitesell said the image perfectly captures the ailing coach's personality.
Nosbisch was diagnosed with Stage 4
intrahepatic cholangiocarcinoma
last month.
"He's a calm person, very down to earth," Whitesell said. "He just enjoys seeing his kids - his wrestling kids and the kids in the classroom - just be successful, and the joy you can see in his face in that picture, I think just means the world."
Want more ABC11 Together stories? Get the ABC11 News App
Whitesell said the dedications to his students and his team shows.
"We won four consecutive conference championships. Coach Noz has been the head coach for three of those," he said.
Now Nosbisch is in it to win it in a different way.
He's been accepted for new treatments at the Mayo Clinic in Minnesota, but it's expensive, so his family is sharing his journey in hopes of raising funds to cover it on a blog called
NozOneGoalOneWin.Com
.
His family is hoping to raise $30,000 and they're asking for
your help
.
"Just know that no amount is too small, and any help you can give - whether that be support or whether that be through a monetary donation - that anything could help him or his family," Whitesell said.
Report a Typo