RALEIGH (WTVD) -- Summer and warm weather means more fun and more outside time for kids and families. But for some children, playing outside isn't so simple.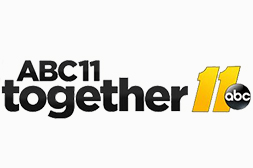 In Wake County, teachers and parents got together to make sure some special needs kids feel the wonderful sensation of swinging for the very first time.
Amanda Hummel is a teacher as Hilburn Academy and her students have disabilities. Some have difficulty walking while others can't speak or tell her they want to play outside.
"Many of them use crying when they're upset, but we need more ways for them to communicate enjoyment, communicate what they love," explained Hummel.
The teachers at Hilburn along with their Wake County community raised $12,000 for new adaptive swings.
They have solid bucket seats that support the kids' bodies and a special harness that keeps them upright.
Little by little, one foot at a time, the children made their way to the brand new swing set and got to experience the joy of swinging.
For children who may not be able to say what they need or want, having them intentionally get themselves to their new swing set and squealing with delight is groundbreaking.
The kids are getting stimulations that they could not get any other way. There are 28 children in the special needs program at Hilburn.
Report a Typo