CARY, North Carolina (WTVD) --
Title Boxing Club in Cary and the
Grossman Group
have collected over 16,000 diapers and wipes for Diaper Train at
Saint Saviour's Center in Raleigh
. They'll be collecting diapers until Jan. 15.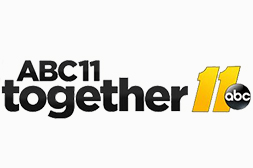 The program provides free diapers for families in need. According to Saint Saviour's, one in three families in the U.S. struggle to provide diapers for their babies.
"One of the things that I guess impoverished families suffer with is diapers and wipes for their babies," said Title Boxing Club Regional Manager Max McGee.
Realtor Adam Grossman helped get the word out by distributing a video on social media.
"It's one of the least given items during the holidays and we saw the utmost importance in getting involved in that," Grossman said.
The businesses had a goal of collecting 15,000 diapers and wipes. They exceeded that goal and are extending the collection date.
"We've had moms bring in their old diapers as far as stuff they're not using anymore," McGee said. "We've had people swing in and pick up cases and drop them off. We've had companies donate thousands at a time."
You can drop off wipes and diapers until Jan. 15 at Title Boxing Club in Cary. They're located at 2046 Renaissance Park Pl, Cary, N.C. 27513, and can be reached at (919) 234-7499.
Report a Typo